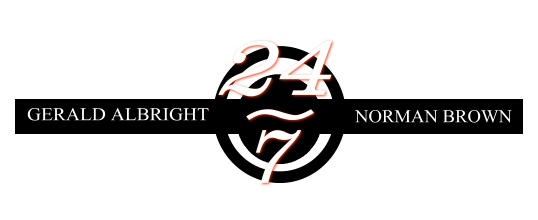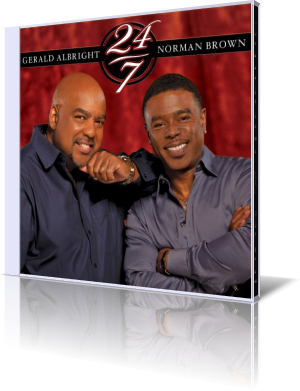 Two heavy hitters in contemporary jazz come together in celebration of music lovers' all-day, all-night passion. Saxophonist Gerald Albright and guitarist Norman Brown present 24/7 (Concord, 2012).
Albright, a Grammy nominee, is a native of Los Angeles. His career is marked by associations with Patrice Rushen, Anita Baker, Ray Parker, Atlantic Starr, Olivia Newton-John, Maurice White and many others. New Beginnings (Peak, 2008) and Sax for Stax (Peak, 2009) both received Grammy nominations for Best Pop Instrumental Album.
Brown was born in Shreveport, Louisiana, and raised in Kansas City, Kansas. His 2002 release, Just Chillin', received the Grammy award for Best Pop Instrumental Album. Inspired by Jimi Hendrix and Wes Montgomery, Brown has often been compared to George Benson, both in his style of playing guitar and his vocal scat. During the waning years of Warner Bros. Jazz, Brown also collaborated on several projects with saxophonist Kirk Whalum and trumpeter Rick Braun. The trio, backed by several other musicians, was known as BWB.
"Keep It Moving" is an aptly titled groove. Penned by Herman Jackson, who also plays keyboards, this track features Byron Miller on bass; Charles Streeter on drums; and Ramon Ysalas on percussion. Brown, as he does on all tracks, plays lead guitar. And Albright delivers a tour de force with alto, tenor and baritone saxophones. This song is perfect for driving. It sets a mood for cruising along a rural highway with the windows down and a smile on your face.
Albright wrote "Buenos Amigos," a Latin/funk piece with the artist playing alto sax, flutes, bass guitar, percussion and programming. Phil Davis steps in on keyboards, Rick Watford on rhythm guitar and Jay Williams on drums. Thought Albright's contributions are layered, the song has the feel of a larger ensemble, with all the parts playing at once. His middle solo has the flavor of a Maceo Parker track during his years with James brown.
Absent a modifier, "programming" usually means a synthetic drum track. However, with Williams on the acoustic kit, it's more likely a reference to horn and string synths.
Albright says 24/7 is reflective of the commitment he and Brown have made in terms of their instruments. Music is on their minds 24 hours a day, seven days a week, whether thoughts of concerts, recordings or the next project. It also speaks to their friendship and professional association, which dates back to the 1980s.
Often, the knock on smooth/contemporary jazz releases is that in their vain hope of getting radio play, artists and producers try to make every song a single, within 30 seconds either side of four minutes. This sometimes makes the music seem forced, cookie cutter. In trying to please everybody, the recording sounds bland, uninspiring. Just when you get into a song, it's over.
Albright and Brown give themselves a little more room in that most of the songs hover around five minutes, and the title track is 6:01. That's long enough for listeners to really enjoy the songs without the danger of boring those who have short attention spans. It comes together as not only an expression of two prominent artists in the genre but also an example of how good smooth jazz can be when artist play for the joy of playing rather than trying to conform.