Too long a Fourplay? There's no such thing! :)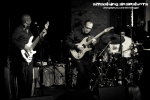 "After 20 years of Fourplay, maybe they felt we should move on...", says Chuck Loeb in a jocular manner later that night, employing the pun on words in the band's name when introducing one of the songs he contributed to Fourplay's 12th album "Let's Touch the Sky". While the cover art suggests that very endeavor with the band member's hands reaching up, nearly two hours of stellar live music performances left no doubt among avid music lovers who had flocked to Bayerischer Hof Night Club on this November, 8th 2011 night that Smooth Jazz's famous supergroup are doing exactly that: They're not only touching the sky, but weaving a musical skyscape with arrangements and solos that exude virtuosity, verve and vitality in equal parts.
Katharina Ehmki, CEO of Ehmki Music Management, promoter and press relations at the venue, landed the renowned music act as a major highlight of her New York at Bayerischer Hof series, and proved her experienced hand at knowing Jazz fans' expectations: Fourplay packed the place to the last available seat and had every non-seated area crowded as well! Which might explain why fans had started to line up well before admittance at 8 pm, as Fourplay had sold out many venues prior to coming to Munich. I've been looking forward to this for quite some time and I was curious to see, what Chuck Loeb would sound like in this rarity of a group of musical heavyweights, where each of them is undoubtedly a leader in their own right, yet they appear to have kept ego out of the way and managed to amalgamate four strong musical personalities into a band - and with a formula that's been going strong for the past two decades with only two changes to the line-up: Prior to Loeb, Larry Carlton held the guitar seat from 1998 through 2010, while Lee Ritenour was a founding member and stayed from 1991 through 1997.


Soundcheck and Gear.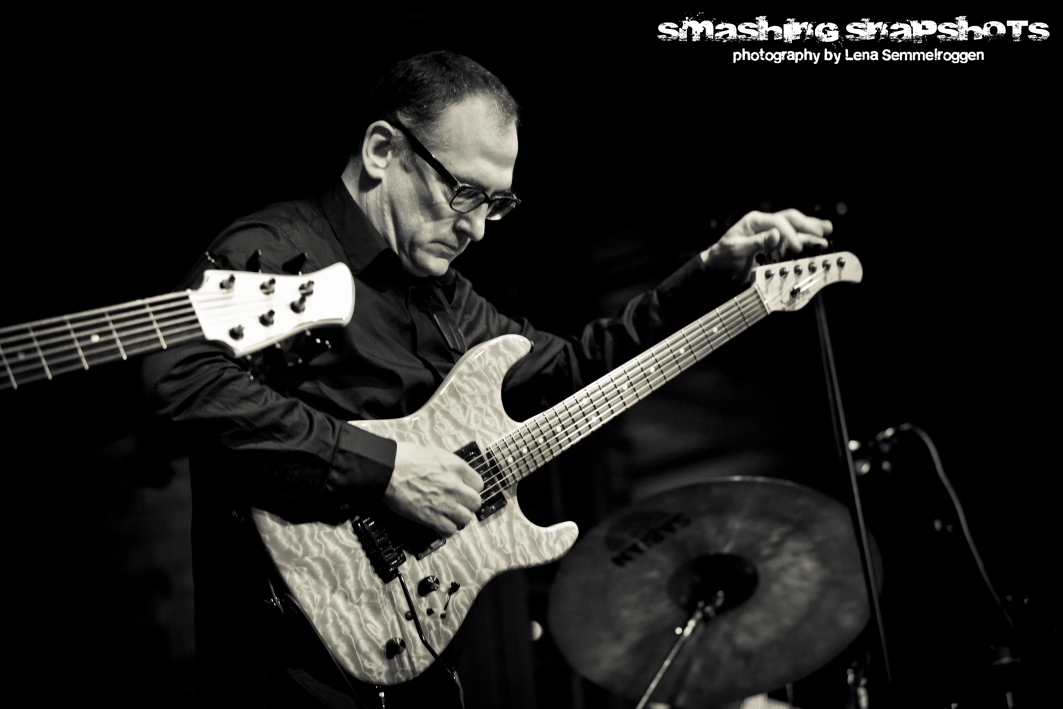 Earlier, Lena and I had the pleasure to meet Sonny Abelardo, the band's manager and tour manager, who allowed us to witness Fourplay's soundcheck. I was impressed by the calm and almost casual atmosphere during soundcheck, which speaks of the skill level and professionalism of the sound engineers traveling with the band. Setting optimal sound required only minimal feedback from the artists on stage and if so, they would quietly give hand signals to the sound crew operating from the second floor of the club opposite of the stage, this being the perfect spot for maximum sonic control.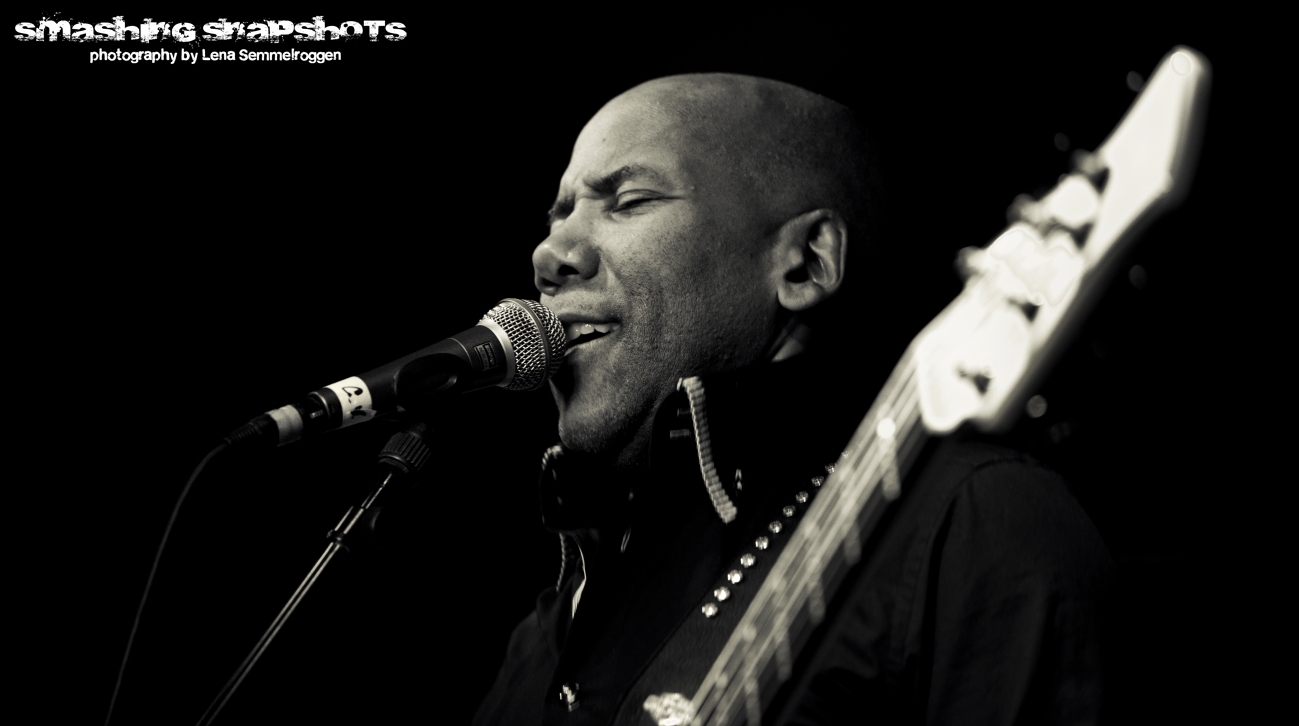 Bassist and vocalist Nathan East intoned the opening song's theme of Eastern Sky Chant repeatedly and with aerial ease, thus giving the sound engineers an opportunity to adjust the mic and perfectly blend it with his signature bass sound, coming from a Yamaha BBNE2 Signature Model amplified by a compact, yet powerful Aguilar stack. Chuck Loeb's gear consisted of two Fender Twin Reverb amps, a Line 6 M13 stomp box modeler, an Ernie Ball volume pedal, a Boss Expression pedal and an Ibanez Tube Screamer pedal for creamy, "singing" distorted lead sounds, next to his honey colored Sadowsky solid body guitar, which he endorses among other models of the same N.Y. manufacturer. A year ago, we had seen him operate an Apple Mac Book Pro on stage at Smooth Jazz Festival Augsburg 2010, using Apple's software Mainstage to control and switch sounds via an Apogee Gio floorboard. However, experiences with unfavorable weather conditions during some outdoor events in California ("It never rains in (Southern) California"? - sure does!) had him rethink the fragility of a computer laptop and choose in favor of more robust, but still flexible gear.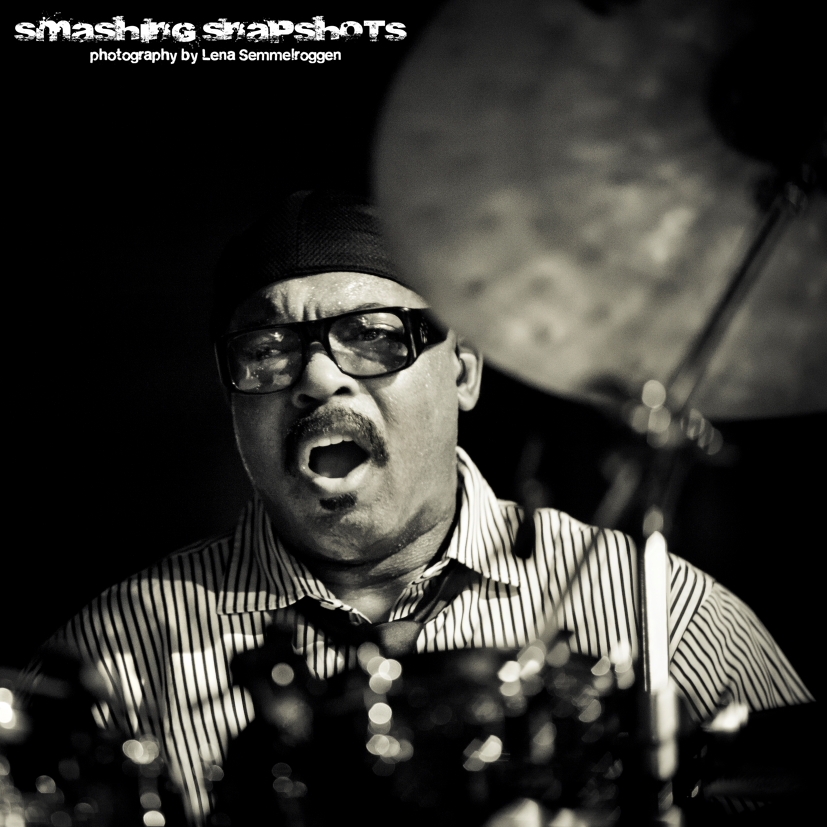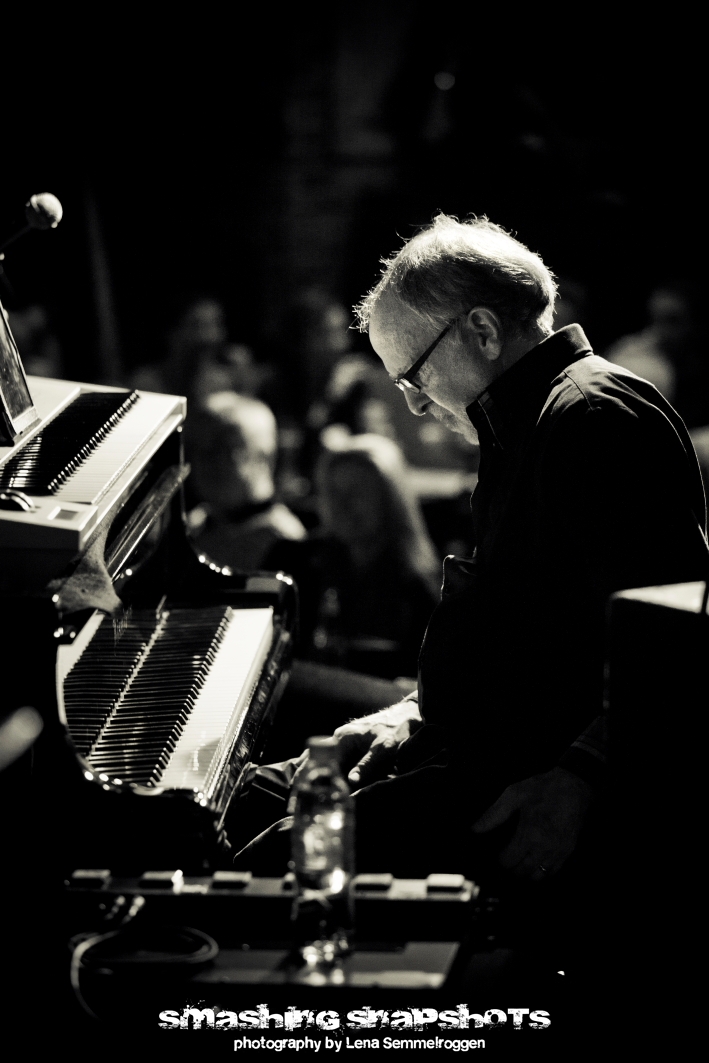 Fourplay's drummer Harvey Mason played a black Yamaha drum kit sporting six tom-toms and Sabian cymbals to my surprise, when I would have expected him to use Tama drums, which he has been endorsing for some years. And Fourplay's pianist, keyboardist and music director Bob James enjoyed a Boesendorfer grand piano with a Yamaha Motif controller keyboard sitting on top of it - and an Apple iPad on top of that, which displayed digital lead sheets and a little surprise at the end of the concert.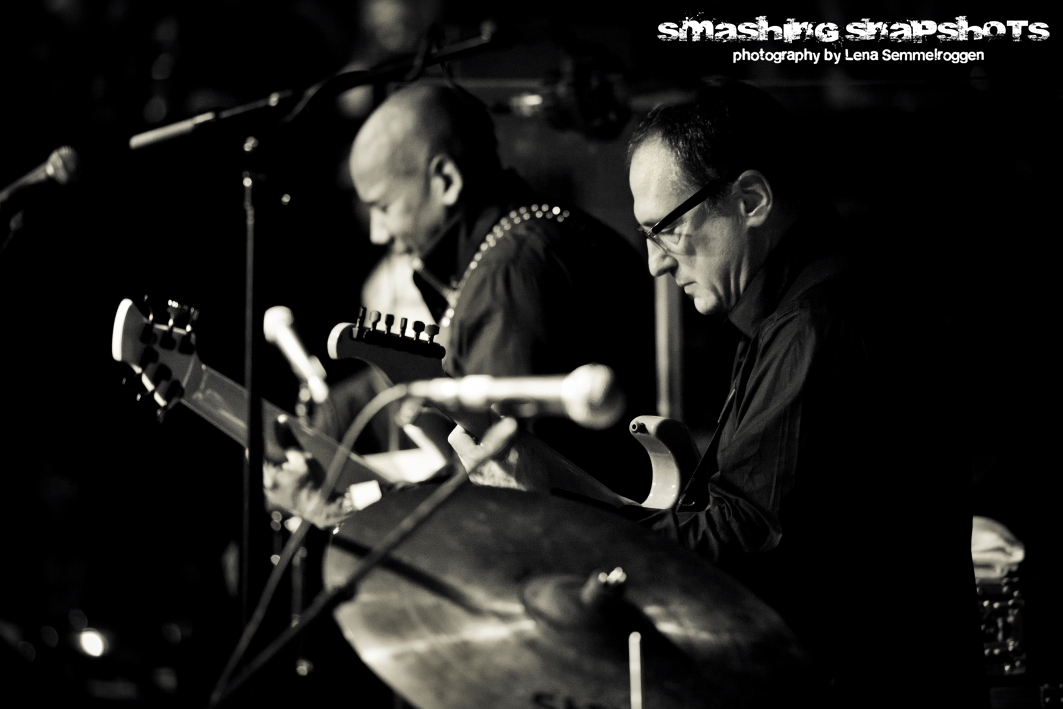 Chuck Loeb on working with Fourplay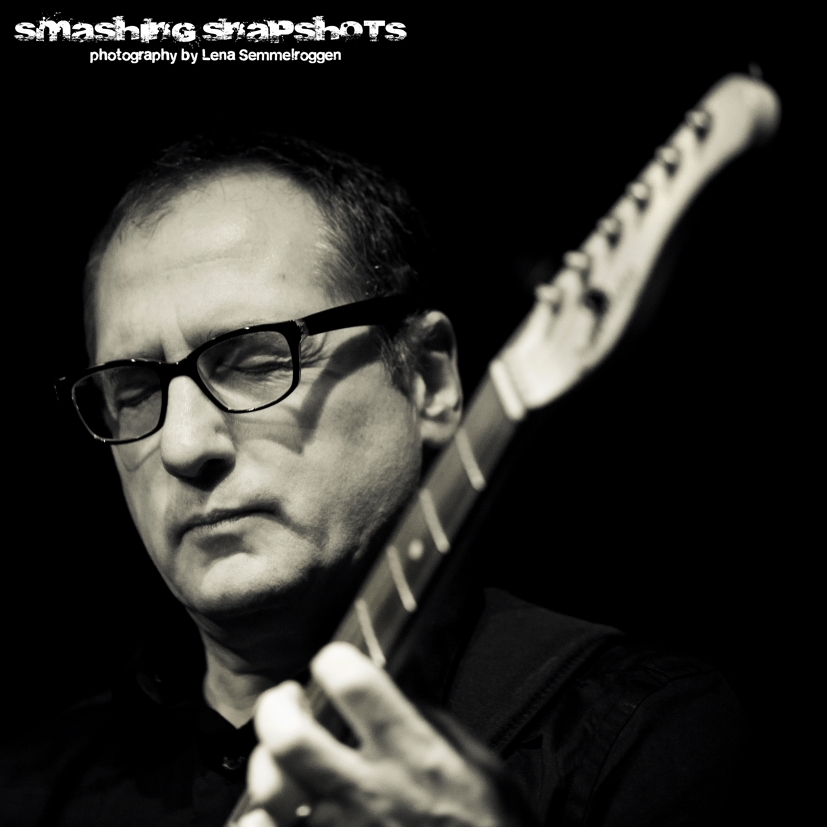 We had met Chuck Loeb and Nathan East earlier during a casual get together with musician friends from Munich and while making our way downstairs, Chuck shared a few bits about the past year of touring and what it felt like being a member of Fourplay.
Q: What is touring with Fourplay like?
CL: We enjoy ourselves and the fans thoroughly and have a lot of fun on the road. Whenever our schedule gives us the opportunity, we head out to exploring the cities we play in and shoot images and videos for our Facebook profiles and other social media sites. The other day I noticed an image Nathan had taken of me while being on a morning walk through beautiful Budapest in Hungary. Often though, the schedule is tight and we have to rush from the airport to the hotel, get ready for soundcheck, play the show and then go to a different place on the very next day. So, there's never a dull moment! (wb: Fourplay's manager Sonny Abelardo later remarked how quickly and effortlessly Chuck Loeb had settled in with the band, being the great team player he is.)
Q: When you received the call to join Fourplay, what was your reaction?
CL, (as per Jim Dail's article in The Californian): "I was definitely eager to join the band, having been a fan of the band from the beginning," said Loeb. "It's a really good moment for me as the focus on my own career was changing, and this left the door open to pursue two different areas, to keep me challenged." And he continues: "It's a really exciting step for me, sort of the latest stage in my career."
Q: You have contributed two original compositions to "Let's Touch the Sky". How were the songs selected?
CL: The band is very democratic when it comes to the repertoire. We vote on which songs make it on to the album, what the sequence of songs should be etc. When I got the call, jokingly they said "Part of the initiation process, Chuck, is that you have to write the number one song - for the band! [It] Put the pressure on a little bit ... but I - uhmm - I think I may have hit it with 3rd Degree. (wb: A pun denoting the fact that Chuck Loeb is the third guitarist of the band).
Q: I noticed that you are using different gear today. What made you replace the Mac Book Pro and Gio in favor of a Line 6 M13? CL: I love the Mac Book Pro and the Gio, but believe it or not: We played a few outdoor concerts in California, when it started to rain! Usually, there is a tarp covering all the stage area. However, there were a few places, where this was not the case. I have the Mac Book Pro not too far from me on stage to check settings or display the setlist. So it got rained on! I didn't want to have it ruined by the humidity and thought that some more robust gear might be better suited. The M13 pedal board by Line 6 gives me a robust casing and still a lot of flexibility in terms of sound. In addition to that, I recently found an old Ibanez Tube Screamer, which gives me a great distorted sound - I love it!
The Concert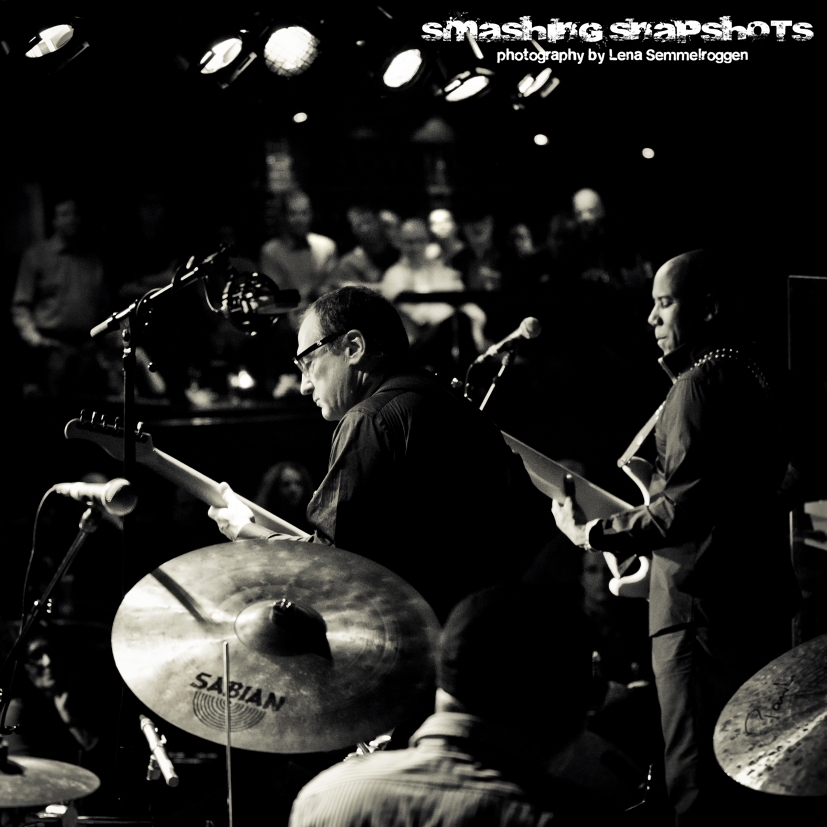 The soundcheck had continued for a little bit, with Nathan East singing "Overjoyed" by Stevie Wonder and playing chord changes on bass, the other musicians joined in, while the sound crew made adjustments on the mixing console as they played. Eventually, Sonny announced "9 pm in the lobby, 9.15 showtime" and the band split for a little more relaxation before the concert. Meanwhile doors had opened and people progressed to find their seats and barstools.
At 9.15 sharp the band appeared back on stage and was met with enthusiastic bordering on frenetic applause! Nathan East started the set by singing the beautiful, breezy Eastern Sky Chant theme, backed a low-key, yet highly precise groove coming from Harvey Mason's drum set, with lots of cymbal work, thus highlighting the East-meets-West atmosphere of the song. East soloed first, demonstrating his impressive fingerstyle picking bass chops and feel for chords and harmonies, which his six-string bass enables him to lay in addition to Bob James' piano and keyboards work. Chuck Loeb did a solo next and received quite a bit of spontaneous applause coming from the audience, which was comprised of music lovers and admiring musicians, too. And their idols were at the top of their virtuosity with the first note they play!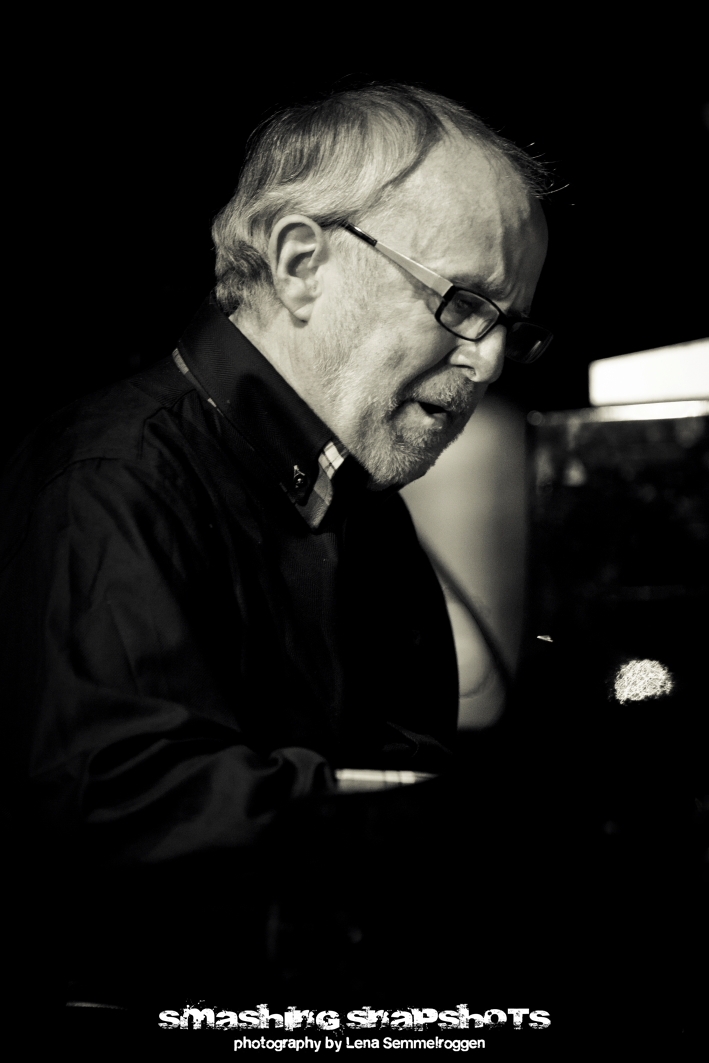 Bob James preceded Blues Force with a long, almost classically informed piano-only intro, a little reminiscent of Keith Jarrett's way of doing completely improvised concerts. It seamlessly blended into the signature shuffle-feel, which allowed Harvey Mason to show off his clockwork-precision timing and set the musical pocket for Nathan East to comfortably rest in throughout the song. In other words: They make a tight rhythm group as you want it to be!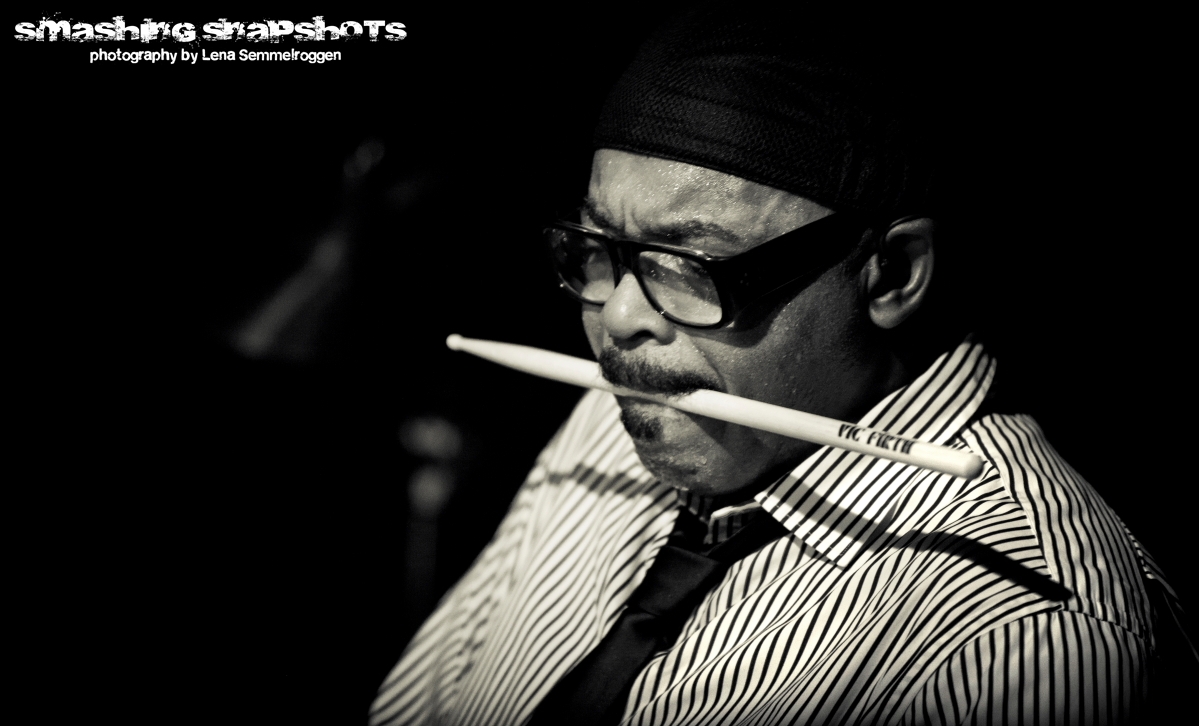 Harvey Mason got to shine again with a solo during Robobop, where he would hold one drum stuck horizontally with his teeth and mouth in order to place very subtle snare and tom-tom knocks with one hand, thus creating a rich envelope of volume changes ranging from pianissimo - and supported by Bob James' delicate string pad sounds - to a full throttle thumping, yet contained groove.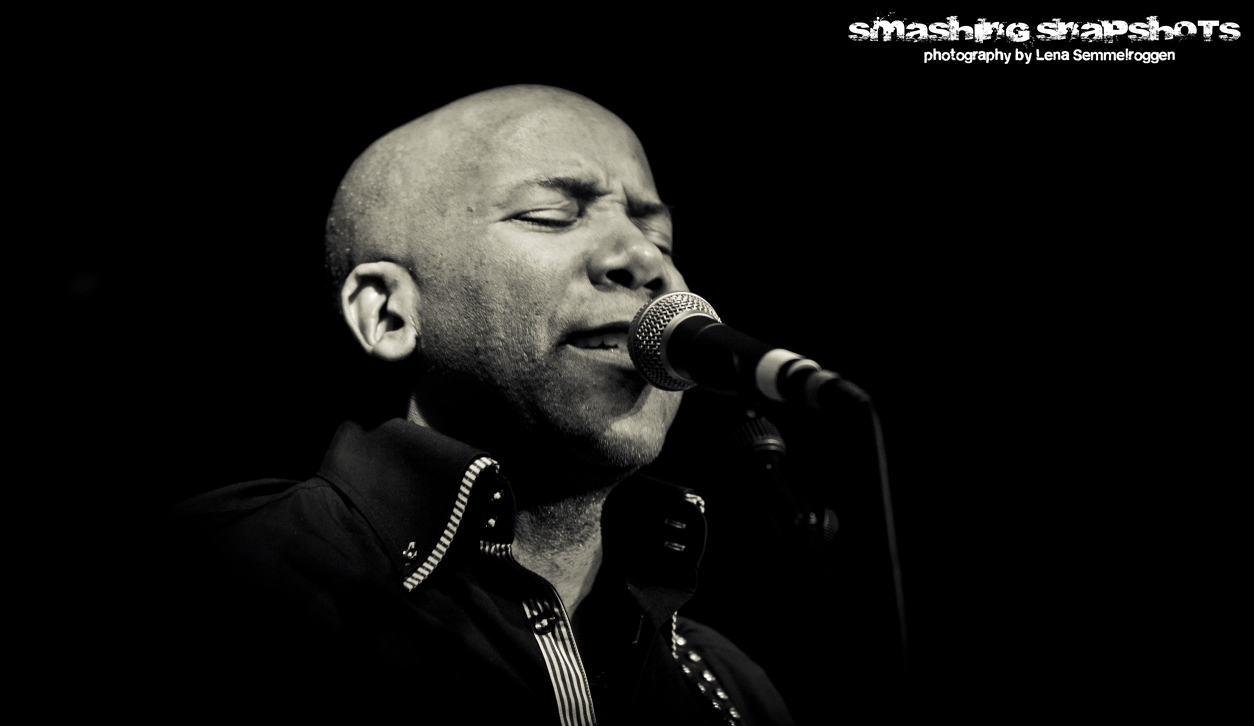 Nathan East would resort to a chord-orientied intro to Argentina and Bob James later followed with a solo that can almost be called "physical" in so far as it saw him lean into the grand piano as if he was about to hug it. 101 Eastbound was another tip of the hat to previous Fourplay albums, the last one of this set, which is not on "Let's Touch The Sky". A Night in Rio featured Nathan East's soothing and unintrusive vocals again, most tastefully and virtuously accompanied by his bass lines and chords. On the album's title track Let's Touch the Sky, Bob James and Chuck took short solo parts in an alternating fashion, always keeping it fresh and building and releasing tension as they'd pass the musical ball back and forth between them. Chuck Loeb surprised during his solo in Pineapple Getaway by playing a short recurring citation of Benson's "Breezin'". Bob James poignantly honored one of his own favorite Jazz pianists, Hank Jones, when introducing the song Gentle Giant, which he tributes to him in response to having found similarities in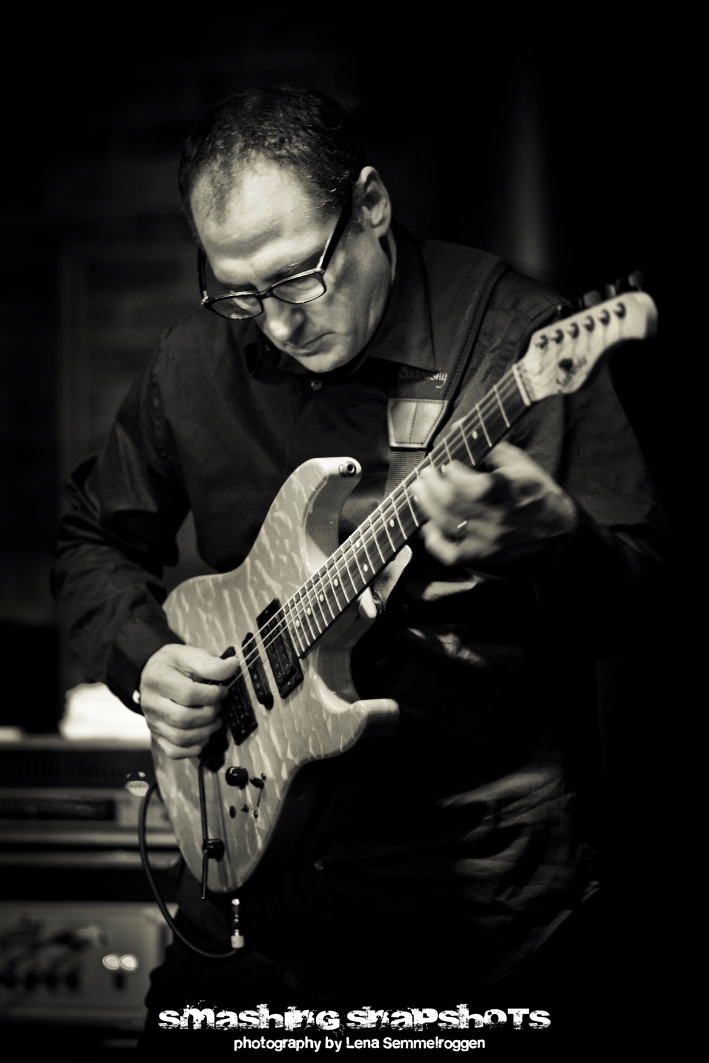 both their careers during a personal encounter in Japan.
Another shining moment of so many that night was Chuck Loeb's long lyrical solo intro to Above & Beyond, his other composition on the album. It's at such moments where you realize the incredible musicianship of this ace guitarist, as every note and open string or chord was crystal clear from perfect fingering of the left hand. It was also particularly impressive for guitarists to see, how quickly he switched from finger picking with his right hand and using the guitar pick in other places. (I did my best to figure this out and explain it to interested guitar players in this short video). Nathan East graced our ear buds with stellar vocals again in his song I'll Still Be Lovin' You, jokingly introduced by Harvey Mason, adding "...maybe" to the title and yielding a round of chuckles, laughter and applause in the audience. In general, the atmosphere on stage was marked by a light-heartedness and fun shared by the artists, that again underlines the absence of ego and might well be one of the reasons that make for the ongoing success and steadiness.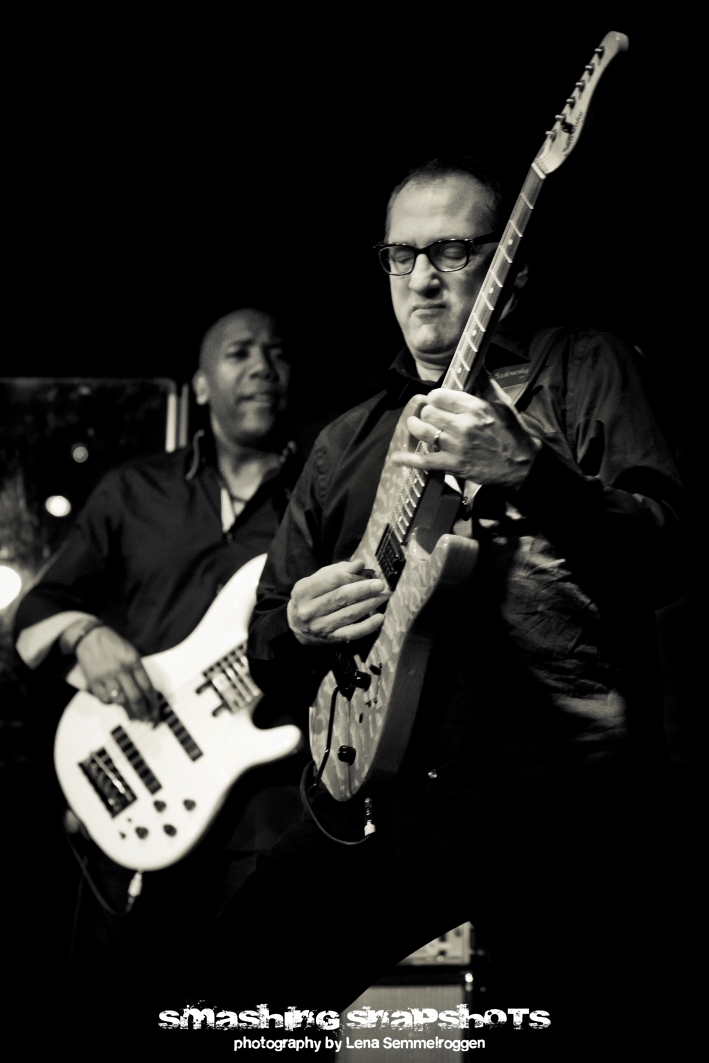 I had asked myself all night, when they would perform 3rd Degree and what can I say: They saved the best for last! Chuck Loeb's highly sophisticated, technically quite challenging, yet funky uptempo groove with catchy hook lines had the band totally on fire! Don't get me wrong: They were always fresh, entertaining and on top of their craft all night. But 3rd Degree was like one season-winning home run! They performed the song with a number of variations to the recorded album version, such as e.g. an introductory wah-wah-guitar rhythm, slightly reminiscent of the famous The Streets of San Francisco lick of the film score, a very funky clavinet sound employed by James and a session-like vamp in the beginning. Before they entered into the blazing fast lines towards the end of the song, Chuck Loeb would quickly mimic the sign of the cross at 7.52 min. into the video as if to summon God's help on the finish! When the last note had rung silent, the crowd was ecstatic and it came as no surprise that they cheered the band back on stage for no less then three encores, which again were songs from previous years: Bali Run, More Than A Dream and Bob James' Westchester Lady, a song that is said to have established the Smooth Jazz genre as such. Before they left the stage that night, Bob James unmounted the iPad from his Grand Piano and had a "Danke Schön!" scrolling across the display, showing it around to standing ovations and thunderous applause that wouldn't ebb for minutes!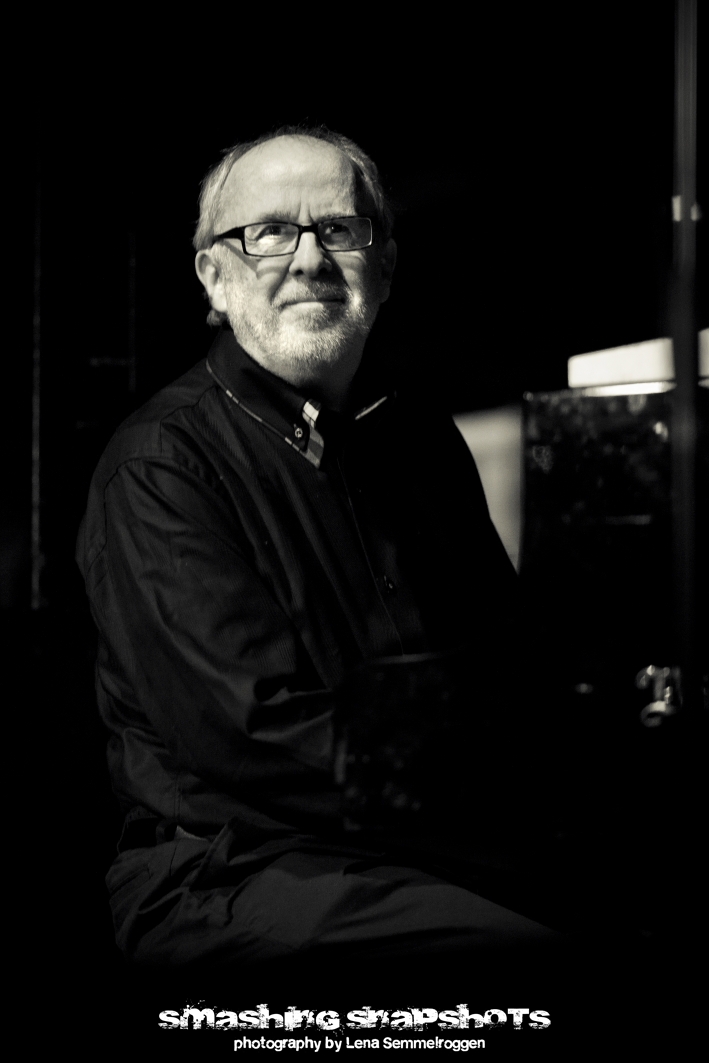 To me, there is hardly a doubt that Fourplay define the state of the art in the Contemporary Jazz genre. These most accomplished composer-musicians, each of whom have careers rich in musical diversity and reading like a who-is-who list in Jazz, R&B, Pop and even Rock, have solidified their highest standard of excellence by virtue of writing, recording, producing and touring profusely. And they haven't lost one beat in 20 years!

My heartfelt thanks go to Lena Semmelroggen of ©Smashing Snapshots, who again managed to take a set of beautiful signature shots, she's become known for.
Thanks also to Marco for letting me link to the videos he shot at Bayerischer Hof, Munich and elsewhere on Fourplay's tour.

© Werner Nielke