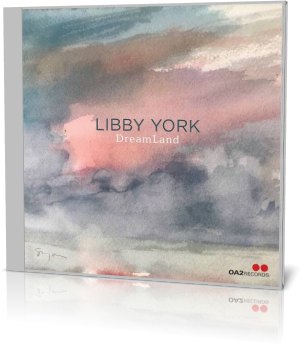 American jazz singer Libby York grew up in Chicago in a musical family. Her father sometimes sang in big bands and wrote a nightlife column for a student magazine. Both mother and father played the piano, and the house was filled with the music of Sinatra, Rosemary Clooney, etc.

However, Libby's musical career did not begin until she was 35. She left Chicago in the early 1970s to attend American University in Washington, D.C. There she met her husband, and together they opened a restaurant. In the winter, however, they were in Key West, Florida, where she became interested in music.

After a few years she divorced her husband and moved to New York. There she was gradually included in the lively music scene. A jazz workshop put her on the right track. However, she returned to Chicago in 2014, and now divides her time between Chicago, New York and Key West and Paris.

This is her fifth CD already as leader and producer. She is assisted by Randy Napoleon (guitar), Rodney Whitaker (bass) and Keith Hall (drums). She chose lesser-known songs from the Great American Songbook.

Johnny Mercer's opener 'Hit The Road To Dreamland' symbolizes her state of mind during the Corona pandemic, and the title of this album was derived from that. "Estrada Branca (This Happy Madness)" is about finding true love at a later stage in your life, which I also experienced. And 'Mountain Greenery' stands for her love for nature.

Peggy Lee once sang "Cloudy Morning", after which Libby opted for Abbey Lincoln's 'Throw it Away', which is about the Chinese I Ching. 'Rhode Island Is Famous For You' is a lively, upbeat track, followed by 'Still On The Road' and 'When October Goes', both by Rosemary Clooney.

But in 'Moon Ray' some funk pops up, and then it gets sexy with 'An Occasional Man'. Libby herself likes the dark, nostalgic tone of 'Something Cool', closing with the upbeat 'It's Love.'

A cool, understated recommendation for fans of Peggy Lee, Sarah Vaughan, etc.