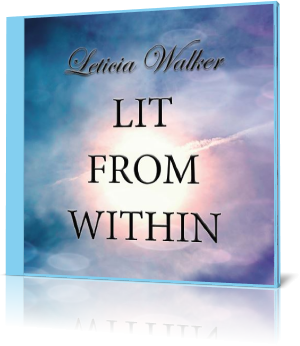 After Leticia Walker survived a massive stroke eight years ago that left her hemiplegic, she was unable to speak, sing or walk for a while. This new album, which she recorded herself, is therefore a triumph to overcome that condition and to be able to sing again.

Musical director and producer Steve Jankowski gave her the opportunity to work with a number of talented musicians, and pianist/organist Aaron Graves created 10 of the 11 arrangements for her.

Steve added jazz piano solos, and Aaron put together the rhythm section. Furthermore, Leticia got a kick out of bassist Steve Beskrone, drummer Leon Jordan, guitarist Richard Tucker, backing vocals Kimberly Davis, Audrey Martells and Deb Lyons, and saxophonist/flutist Doug DeHays.

She has always believed that her singing talent is a gift from God. She started with the idea of making a jazz/gospel fusion CD, but it has become more than that. The title track opens cheerfully uptempo, but was only written and added towards the end of this project. Guitarist Marc Ribler, keyboard player Demetrios Pappas and saxophonist Tommy LaBella make an appearance on this.

'This I Know for Sure is a gospel ballad, after which Leticia addresses God in a prayer on 'Speak To Me'. 'Better Than Anything' is a cover of a 1963 classic, followed by the Luther Vandross cover 'Power of Love / Love Power'. Then it's gospel time again with 'Prayer of St. Frances' and with the cheerful 'Highest Praise Medley'.

'My City of Ruins' floats at a mid-tempo, and 'Just A Closer Walk with Thee' is gospel in a jazzy atmosphere. Deb Lyons joins as a duet partner on 'Happy Days / Get Happy', which radiates happiness. The closing track 'Jesus Is Mine' is a danceable gospel track, in which Leticia cheerfully sings about her faith.

A rather gospel-oriented album, therefore, that nevertheless has similarities with jazz.