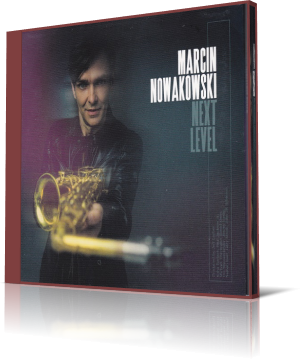 For years I have been reviewing the CDs of the Polish saxophonist Marcin Nowakowski for www.smoothjazz.eu. Marcin not only plays the sax, but also flute, clarinet, bass clarinet, bassoon, harmonica and electric wind instrument – EEMCS.

He started his musical education in the Music School. W. Lutoslawski in Pruszkow. He then went on to study at J. Elsner's Secondary School of Music in Warsaw. Because he could play the bassoon well, he continued at the jazz department of the secondary music school. F. Chopin in Warsaw.

Marcin founded the band Whoops, after which he played in the group Woobie Doobie. He was active in various music genres such as hip-hop, country, film music and jazz.

His debut album 'Smooth Night' was released in 2005, followed in the following years by 'Better Days' (2009) and 'Shine' (2011). Now his latest project has been released, produced by veteran Grammy Award winner Jeff Lorber.

Marcin also gets help from fellow musicians Jeff Lorber on keyboards, guitar and synth bass; David Mann on wind instruments; Gary Novak on drums; Jimmy Haslip on bass; Paul Jackson Jr. on guitar and Nathan East on bass.

The opener is immediately the title track, a funky piece, on which Marcin reminds me of Candy Dulfer, after which 'Pockets' goes a bit more in the fusion direction. 'Au contraire' floats at a mid-tempo, followed by the driving 'Moving Forward', with that typical Lorber fusion again.

"Mission" is again a mid-tempo song, after which "Spice of Life" takes it easy. Then 'Watercolors' brings fusion in mid-tempo, and 'Spring' sounds a bit more cheerful. It gets quiet on 'Coffee Bear', after which fusion is back on the agenda on 'Jumper 88'.

The last track features Kuba Badach, who sings the song 'Na Rozowo'. The Swiss Urs Wiesendanger produced this track.

Marcin himself said of this album: "This album is for me a transition to the next level of conscious playing, appreciation of every note placed and a huge progress in playing technique. The greatest value of this album is my emotions, which I hope will move the audience. During the recordings for the Next Level album, I got a taste for music, I focused on building interaction with my musicians – I'm sure that this joy and fun with the sound that accompanied us is audible from the first beat on this album."

It is therefore highly recommended, which Marcin can safely place among his American contemporary jazz colleagues. Marcin is my favorite Polish export product!