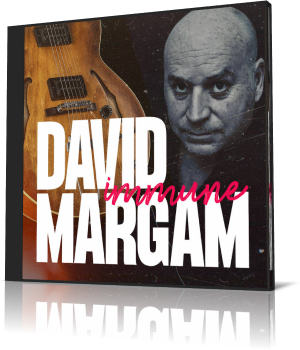 Guitarist David Margam, who lives in Granada (Spain), presents his debut album. He previously released the single and title track 'Immune', but this debut contains 11 tracks produced by various producers from the USA and Europe.

David has been a founding member of the Spanish funk band Funkdacion since 1995, mixing the influences of his 30+ year career. Think of funk, smooth jazz, bossa nova, gospel and R&B.

The project started in March 2020 when the Corona pandemic hit. This debut is thus the result of more than 2 years of musical creativity.

David received help from artists such as J. Michaels, Jimmy Østbygaard, Sebastien Zunino, Lee Jones, Sergio Hidalgo, Nacho Valenciaga, veteran Cuban pianist Carlos Camilo and Latin saxophonists Gianni Vancini, Jorge Pinelo along with Spanish vocalists Rosa Lazar and Maria Romero.

The Dane Jimmy Østbygaard provided the opener 'Hooking Up', followed by the relaxed and "feel good" single 'Immune'. David received help from Sergio Hildago for the beautiful 'Hunch', after which the 'Three Day Weekend' comes from the Miami saxophonist and producer Lee Jones.

David also wrote 'Sensibility' together with Hildago, followed by the relaxed 'The Last Time', which was sung by Rosa Lazar, and on which the Parisian Sebastien Zunino plays. Then we drive on 'Sunset Boulevard' in the company of Lee Jones, and the New Yorker J. Michaels promises us 'I'll Treat You Right'.

Then we go on a relaxed cruise twice, first on 'Road to West Coast', and then on 'Road to East Coast' with Spanish producer Nacho Valenciaga. You will also receive 'On My Way' as a bonus track. It is clear that this Spanish production has an international appeal.

Top quality smooth jazz! And yet David manages to put his own personal stamp on it. Recommended!