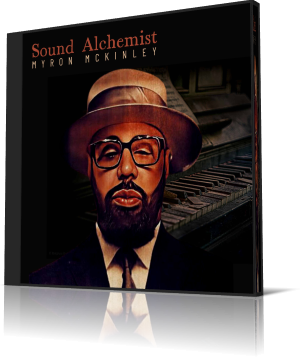 African-American neo soul-jazz keyboard player Myron McKinley from Los Angeles released his debut album on February 10th. Due to the pandemic and a hectic schedule, with Myron acting as musical director for Earth, Wind & Fire, he is now experimenting with a mix of jazz, neo soul, hip-hop and funk.

The 10 songs reflect a culturally rich amalgam that deals with the various forms of "black music". Think of the music of, among others, Nat King Cole, Oscar Peterson, George Duke, Miles Davis and Herbie Hancock.

Myron has already toured with Whitney Houston, Kenny Lattimore, Stanley Clarke and En Vogue; wrote, co-wrote or produced songs for EWF, Clarke, Doc Powell, Silk, Vesta, Cherokee and Howard Hewett. In addition, he has composed music for film and TV scores, such as for "Soul Food," "Romeo Must Die," "The Best Man," "Think Like A Man," "Shaft," and "The Godfather of Harlem."

Myron received support for this debut from Grammy winner and saxophonist Gerald Albright, bassist Reggie Hamilton, percussionist Munyungo Jackson, guitarists Eric Walls, Morris O'Connor and Greg "G-Moe" Moore, EWF trombonist Reggie Young, and vocalists Danny McClain, Isabella Chiappini and Denaine Jones.

Opener 'Matrix' sounds somewhat experimental, after which 'Crowded Club' also has that electronic sound, which floats on a hip-hop beat. Earth, Wind & Fire's 'Imagination' is the first cover, followed by an adaptation of The Carpenters' hit song 'Close to You' (with a vocoder voice).

'Will You' is a quiet track, after which 'LAB-1' is actually a contemporary jazz cover of Sting's 'La Belle Dame Sans Regrets'. 'TUN-1' floats on a Latin rhythm, while 'Remembering You' is a quiet ballad. Jhene Aiko's 'From Time' is unknown to me, which was originally a hit for Drake, as well as the original jazzy closer 'Let's Just See'.

Not bad for a debut, but somewhat experimental.