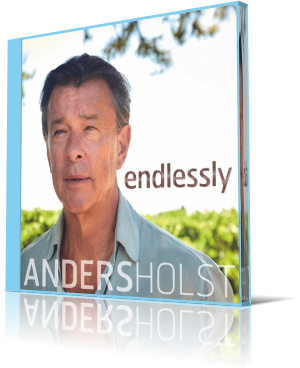 Many years ago I became acquainted with the Swedish singer-songwriter Anders Holst, who lives in New York. His debut EP 'Five' was released in 2005, and he soon gained a name in smooth jazz circles.

Now, after a long absence, he returns with a new album, and once again love takes center stage. That album was produced by Grammy Award winner Gordon Chambers, with string arrangements, and supported by a live band featuring keyboardist Shedrick Mitchell, guitarist Sherrod Barnes, and saxophonists Peck Almond & Andreas "Pastorn" Andersson.

Opener 'All I Do' is a soulful tribute to Stevie Wonder, followed by the ballad 'Come As You Are'. The late George Michael's "Cowboys and Angels" is one of my all-time favorite tracks, and Anders turns it into a soul/jazz duet with Sy Smith.

The title track follows with a piano in the intro, and the lyrics are inspired by an imaginary trip through Europe, with Stockholm, Amsterdam and Paris as destinations. "Heaven" is another romantic mid-tempo track, and a cover of a song by Kem, after which "Something about this Girl" picks up the tempo a bit more.

'Take Me Home' remains in the same genre, and 'This Moment' is a beautiful, romantic ballad with sax in the intro. 'When it Rains' closes in a mid-tempo.

A beautiful album that shows Anders in a romantic mood. Just in time for the upcoming Valentine's Day! Too bad he isn't known to us here. My review might change that!