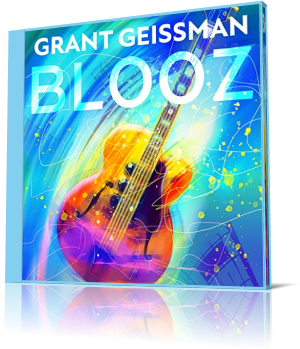 American guitarist and composer Grant Geissman is a popular contemporary jazz guitarist, who has already released 16 albums. So you can safely call him a veteran.

Since the beginning of his musical career, he has explored the blues, such as his electric guitar solo on Chuck Mangione's 1978 hit 'Feels So Good'. Over the years, Grant has played for Quincy Jones, Steve Tyrell, Burt Bacharach & Elvis Costello, Van Dyke Parks & Brian Wilson, Robbie Williams & Michael Feinstein etc.

A veteran of film scoring, he wrote the music for all 12 seasons of the CDBS sitcom 'Two and a Half Men', which earned him an Emmy nomination for the theme. In the mid-eighties he launched an impressive series of pop & jazz recordings.

For this new album he composed all 12 tracks himself, and they are all situated in the bluesy genre. However, they are mixed with soul, rock 'n roll, jazz funk, R&B and even some country. He opens with 'Preach' on which Randy Brecker joins him in a gospel atmosphere.

Then 'Side Hustle' brings a bluesy rumba, followed by the Carlos Santana inspired 'Carlos En Siete' with David Garfield as guest. Russell Ferrante is back on 'Time Enough at Last', after which you can hear saxophonist Tom Scott on the soulful 'Fat Back'.

The speeding 'Rage Cage' features Jim Cox on Hammond B3 organ, followed by Robben Ford who uses the funk on 'Robben's Hood'. Josh Smith and Joe Bonamassa are both guests on 'One G and Two J's', a track reminiscent of Bo Diddley. Russell Ferrante returns for the dark 'Stranger Danger', after which 'Whitewalls and Big Fins' surges past at a rockabilly speed with John Jorgenson leading the way.

'This and That' returns Tom Scott to the scene with rock 'n' roll, after which 'Sorry Not Sorry' closes as an introspective ballad. It is obvious that Grant really enjoyed this CD.

The variety of styles means that there is something different for everyone. But blues takes center stage!