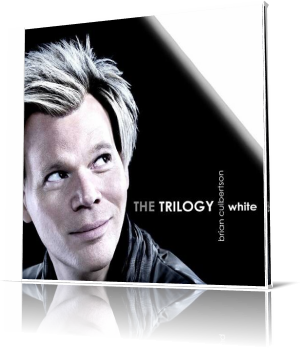 Those who have been following my reviews at www.smoothjazz.eu for years will be familiar with this artist. R&B and smooth jazz hitman Brian Culbertson started years ago with his "Hang Club", which he streamed weekly on YouTube.

From there came the inspiration for the 3 albums of "The Trilogy". After all, Brian composed, produced and played this trilogy with the help of more than 800 members of that "Hang Club", the third part of which has now been released.

It is also Brian's 25th album. The first part, 'Red', was about falling in love and sounded sensual and romantic. The second 'Blue', on the other hand, was rather melancholy during a love break-up. But this third volume is a reunion, and sounds hopeful with upbeat urban grooves, nuanced contemporary jazz and pop songs.

The first single from it is "Step Into Love," a mid-tempo track with a question and answer interplay between Brian's familiar piano and Patches Stewart's muted trumpet. "I knew it would translate live because the song has real guitar, real bass, a lot of percussion. I had (drummer) Chris Miskel lay a simple groove down and it really turned out nice on stage." Brian said.

But Brian is also a true multi-instrumentalist, because here he plays piano, keyboards, Fender Rhodes, Wurlitzer, Hammond B3 Organ, Clavinet, Moogs, guitar, bass, drums, percussion, cello, trumpet, trombone and sings. In addition, guitarists Paul Jackson Jr., Michael Thompson, Isaiah Sharkey and Gerey Johnson, bassist Maurice Fitzgerald, trumpeter/bassist Michael Stever and vocalist Micaela Haley join him.

But the opener "Prelude" leans toward classical music, followed by the funky "Stars". 'Dance With Me Tonight' opens with a pulsating beat, which then turns into a festive salsa, featuring flutist Althea Rene. 'Just You & Me' sounds relaxing, then the beautiful 'Sandcastles' brings the sound of the sea with it.

'Conversations' is in Brian's typical style, while 'Summer Hideaway' comes along nicely on a laid-back groove. Closing track 'You Are My Everything' is an understated ballad. But really you should listen to the three parts together, because they form a whole.

Anyway, Brian proves once again that he is still at the top of this genre. Highly recommended!