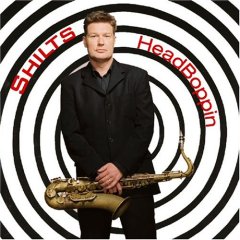 Funny thing, life, you never know where it can take you. One minute you are in Luton, England the next in the middle of the Californian desert being hailed as the new smooth jazz sensation. Having achieved success as the lead soloist for groove pioneers, Down To The Bone Paul Wiemer AKA Shilts (Don't ask, its to do with the English passion for football!!) left the not so sunny climes of North London for those of California. It proved to be a shrewd career move for the vibrant saxophonist whose upbeat personality naturally extends itself to the way that he plays his beloved instrument.
This is his second album and though it has lost some of the raw edge of the first his playing still has the unmistakable hallmarks of the funky retro flavours of soul-funk from the 70's and 80's mixed with the best contemporary sound of today. Hardly surprising really when you consider that Shilts spent 8 years with the Brand New Heavies and was a sideman to The Temptations etal. The album features 10 mostly funky tracks with 'Got Love' being the only partially vocalised number which links Shilts via the vocalist Siedah Garrett to his BNH days. What puts this album ahead of the field is the way that he treats the saxophone as the lead instrument and writes for it in the way that one would expect from a vocalist. Thus without exception ALL of the tracks have a very strong melody line so much so that it is hard to tell which one is actually penned by Stevie Wonder! It is by the way the little known 'Tuesday Heartbreak'.
Jeff Lorber adds his mark to the sweetly soulful 'Good Evans' and influences range from Grover through to the mighty Tower of Power. However, there is no doubt that Shilts has found a style which is distinctively his own and will cross the boundaries of soul,funk,jazz and yes probably at some stage into pop. Like his stable mate, Rick Braun this album is a very good introduction into the world of soulful fusion. With the quality of tunes and the relentless groove Shilts could very well take over the mantle in smooth jazz circles. Not bad for someone born in Luton!