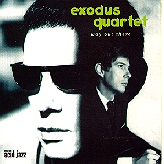 Informations and soundsamples about the group Exodus Quartet are only to find at the website of Instinct Records. This band was formed in 1991 by Eric Hilton, co-founder with his partner Fari Ali of the legendary DC Acid Jazz party named Exodus. Eric decide to create the atmosphere of this legendary club on record. Most of the tracks of the album "Way Out There"(1996) were writen, produced and played in by Eric Hilton. Great participation with the album had David Yilvisaker, who played vibraphone (1, 14), Hammond organ (2, 6), Rhodes Piano (3), Analogue Synths (5), Piano (7), Strings (10), Leslie Organ (11), Organ (12), Keys (13) and also co-wrote and co-produced some of the tunes. A great family of further artists were in the ring: Topaz (sax), Butch Jackson (congas), Kaze (voice), David Hanbury (guitar), George Mitchell (organ), Rene Ibanez (percussion), Al Williams (flute), Ray Gaskins (sax), Jim Sivard (flute), Greg Grainger (drums), John Selvay (loops), David Bach (vibes), David Jernigan (bass), Pamela Bricker (vocals), Wayne Wilentz (Rhodes piano), Jesse Rodefer (percussion).
Eric comments his album:
"I'm really happy with the freedom that Instinct gave me to do this record. I essentially explored the sounds that I'm most into - old Studio One Reggae, Southern Fired Funk, 70's cop soundtracks, Bossa Nova, Latin Jazz etc..." I wanted to make a record for myself first and hopefully other people will groove on it as well. That, in my opinion, is the only way to do it."
Tracks of this albums appeared at 20 (!) samplers of Instinct Records. The cover has an intended similiarity to "In The Hand Of The Inevitable". Not all acid jazz artists are wearing black sun-glasses! Trust me, this album is a must!
Many fascinated fans are asking, where does this group play live? When will this group release a new album?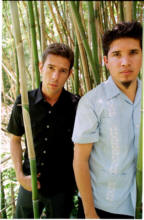 Unfortunately (?) Eric Hilton went another way. Rob Garza and Eric Hilton met at Eighteenth Street Lounge in May 1995. They were introduced by a mutual friend and proceeded to discuss their admiration for the work of Antonio Carlos Jobim and the 60's bossa sound. Weeks later, in a home studio, they began to work on the music that would launch Thievery Corporation.
After several early 12" singles, Thievery Corporation released "Sounds From the Thievery Hi-Fi" on ESL Music. That record is already considered by most to be a classic of the new electronic era.
After a remix compilation and a stellar "DJ Kicks" session, Thievery Corporation have completed a new long player, "The Mirror Conspiracy". While this too promises to be a classic, "The Mirror Conspiracy" finds Thievery Corporation raising the stakes with a more intricate production style, expressing even more subtleties in their sound than ever before.
"We wanted to approach this record as a complete work and create a record that flows well from beginning to end," explains Hilton. "We've always been most inspired by older forms of music like soundtracks, jazz, bossa nova, dub, and the like. I think you can really hear these influences in this new album."
Released in August of 2000, "The Mirror
Conspiracy" garnered accolades from both dedicated and popular music publications alike. Subsequent releases include a 10" remix of Nicola Conte's "Bossa Per Due", as well as the "Focus on Sight".
A compilation of Thievery Corporation's favorites from the seminal jazz label Verve was released in January of 2002, entitled "Sounds From the Verve Hi-fi". Further informations (biography, discography, soundsamples) about Thievery Corporation at