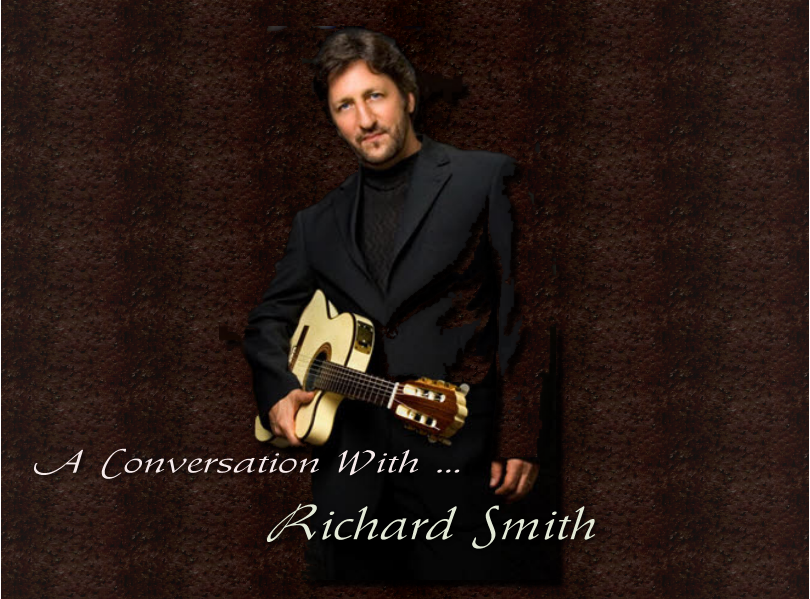 During his European tour I met Richard Smith in Apeldoorn, Netherlands in a jazz café. The environment was vivid and noisy as usual. Nevertheless we had a good conversation in relaxed atmosphere.
hbh: First of all I thank you for the opportunity to interview you and that you give me some of your precious time.
RS: It's my pleasure, it's my pleasure.

hbh: You are touring now in Netherlands.
RS: Yes.

hbh: Can you tell me something about your gigs here in Netherlands?
RS: We do a combination of larger venues, last night we played in a big square in a town with several hundred people and then we do little venues like this in between where we work out new material. It's not so much pressure like in a big hall to work through musical ideas. And so we experiment a lot. But also playing in such small jazz clubs is part of the jazz tradition. So I enjoy playing in places as this as well as in big halls. I'm also doing some teaching at the Pop academy. I'm coming from a conservatory in the past. So I combine teaching and playing and working new material. I also write a lot, compose a lot rather here on the road. It's a big combination of things.
Mainly we are playing theatres or festivals. In England we are playing in the performing art center in Kent, the performing art center is very very beautiful as well as the institute of contemporary music performance I have a relationship with. So a busy tour. When I am done with this tour I'll go back to Sicily and I'll finish recording an album with a very fine guitarist Francesco Buzzurro and that's more about it.
We do Flamenco, Tango, Tarantella. We do a Samba, Bossa Novas, anything what's ethnic we do. Polca. It's hard to play Polca as well.

hbh: What is the experiment, you are playing here in the small gigs?
RS: Mhm. New material. I'm working on a new album. Actually we played one for the first time last night and it worked very well. So as a composer, when you bring out new music, there is always a chance that people may be enjoy the music the way we do. It's a sort of personal experience, you know and it's always one of the most magical things about music. You create something and even if you enjoy it somebody may not enjoy it. So you get your band and in these settings for instance last night I remember the things that worked. It's still an experiment. So there is a couple of things to do work out and all I have to do is to discuss it with the band and sometimes we try it in a different way.
We have twenty more concerts on this tour and that's a lot of time to give them a lot of new ideas which will work well by end of the tour. So we are crafting three, four songs like that which are landing on my next album.

hbh: So you are writing your new album on this tour?
RS: Absolutely!

hbh: You have your equipment with you, do you?
RS: My equipment is a piece of music notation paper and a pencil. (Laugh). At this point I'll go back and I'll record in Sicily with some gear there. I'll go home. All the basic ideas that record the band, I'll take them home and finish them there.

hbh: On the Warren Hill smooth jazz cruise I met André Berry. He showed the recording process with his notebook.
RS: Oh, my whole studio is on the bar right now. Last year I recorded in Sicily most of the Flamenco CD on that laptop.

hbh: You are using Pro Tools?
RS: Yeah, Pro Tools and Garage Band for demos. It's an amazing world now.

hbh: Do you already have the title of your new album?
RS: No. I have the titles songs. Song A, Song B (laugh).

hbh: Do you have a fixed time for the release of your new album?
RS: Well there is a release schedule of the label and I should know it by the end of this month, when they are looking to put it out. So I do my job ahead the time which is working as an artist. The more I work on it the better is the chance I have.

hbh: Is this a continuation of your previous album Souldified or L.A. Chillharmonic?
RS: It's definitely a continuation of the album L.A. Chillharmonic. Unfortunately I'll do most of my writing now overseas and there is not much influence of the L.A. influence now. So I am not sure if we see that.

hbh: So you will run into the studio again with musicians of the L.A. scene to record the whole album then which you have created before?

RS: Yes. But actually I might doing a separate record with my European groups too. I'm not sure what I will do. But theses songs with this band will definitely on the L.A. Chillharmonic album.

hbh: So the whole is in the making now.
RS: I am in a very creative place (laugh).

hbh: You are a teaching professor at the University of Southern California Thornton School of Music.
RS: Yes.

hbh: Tell me more about your education.
RS: Well. I think I am a unusual from other musicians. I come from a family of professors. My father was a professor of architecture and my mother is a professor of history and my cosine is a professor of existential philosophy in Oxford. She is a Deccan and specialist. She is my age.
Her mother was the founder of the American existential association as a professor of philosophy. My uncle was a professor for linguistic at MIT. So I call it the family business. It's very natural and comfortable for me to find a way to presume music at the University level and the idea of University is, I think, is amazing, is wonderful. We try to elevate things.

hbh: What is the difference between your university and Berklee?
RS: Actually we are more like Berklee in a way. We just started a popular music program and we have Pete Erskine at the drums and Lamont Dozier who wrote all the Motown hits, one of the esteemed professors in the U.S. residency, Patrice Rushen, a great American composer in popular music, Ndugu Chancler and Alphonso Johnson. So it's an All-star fact I am looking for.
But so far we are compared with Berklee USC is ranked one of the top conservatories of the world. We have the best student orchestra in the world and Berklee is more the college level. Even it's a fantastic school we are a popular as one of the major music schools in the world.

hbh: I saw on your website a link to an article about Pop education. Is that now part of the education program or are you still jazz professor?
RS: Both. I don't look on the courses as neutrally exclusive. Jazz is in American art form and so is popular music. I think popular music is our most loved and most effective export as a cultural export. I think it certainly impacts people more positively than computers, cars, arms, ammunition and other things we export. You can go any place around the world thirty seven times and hear a Michael Jackson song or some kid in Indonesia be singing a Madonna tune.
I think that we share this with England and other countries but it's completely under value in our education system. Now 90 percent of our schools are teaching exclusively jazz or classical music. Where jazz and classical music combined represent two percent of the world music business.

hbh: So it's time for education in Pop music.
RS: Absolutely. Yes. If you look at the cultural icon, absolutely. Just continue what I just mentioned about it, two percent of humanity are listening to jazz and classical music but 60 percent are listening to Pop music. So just from the standpoint of an active jazz position, that should be a longtime ago. Musical course tends to be the most conservative element in the University systems. And so it's natural, very natural that we stand there.

hbh: When I come to your University as a new student. What can I await from you?
RS: A brand-new student, an 18-year old. That would be scary sometimes because in popular music it's a very different element. In conservatory situation the student comes and says, "You're my teacher, my professor. Everything what you did, must work. So I am doing it the way you did". And that's sort the whole system is based.
When a popular music student comes, he just want to create music he cares about, that engages with the music world of the presence. So I medially look at the paradigm shift of being. Instead of teaching the student I have a dialogue with the student. And I hope in my thirty years of as a professional musician that I can guide him towards some universal fundamentals that happen to do with business and the statics. That make his music stronger.

hbh: The main weight of the teaching is to teach the skills, the guitar skills?
RS: It has been. It has been for twenty years. To teach my students to get gigs and my students are very successful. My students are playing with Madonna, Snoop Dog, Run-D.M.C, Rest Of Development..

hbh: Also the technique?
RS: Technique? No, style is interpretation, interpretation, interpretation. What really makes a Madonna song happen, what makes a Julio Iglesias song, what makes a Marc Anthony? How to play a convincing Flamenco line, a convincing Rumba? (Playing) And how to do it live? What skills you need to perform to capture people? And how do you take an audition? And in an audition very important things seem to work to mesmerize peoples.

hbh: Can you say in one sentence what is captivating the audience?
RS: Connecting all non-musical elements which are passion and imagination and support. My music is instrumental music. So the titles of the stories which are going along the music are very important. But lyrics give you more idea what the writer is thinking. When I play a song that goes (playing guitar), how is that? What is that picture paints for you?
When I said, I met a beautiful woman and she captivated me and attracts me, then everybody in the room gonna have that experiences at the same time. If I play a song that for instance goes (playing guitar), it's more melancholy. Everybody in the room has that experience too. But you have to make sure, that it comes across.

hbh: So there is a spiritual input, an input from the brain and also an emotional input.
RS: I would say much is emotional. Spiritual too, but I think a combination of experiences that are attributed by the composition.

hbh: So the important thing is to know the power of the single note, the power of a sequence, the power of a third. You know what every single note is producing what part of emotion.
RS: Sometimes it's not as specific as that. For my students it's important to learn what component it is. Which certain guitar part makes it work. There is a lot to do.

hbh: You are teaching styles. You are teaching how a certain composer plays his guitar. For example Wes Montgomery plays in such way and George Benson in such way. Are you also teaching theory, jazz history?

RS: We have people to do that in the department. I am specifically performance teacher. I have ensembles and teach understand the instrument to perform.

hbh: You are down to the earth and play your instrument.
RS: I am not much a material guy, I am a practical guy (laugh).

hbh: You play only guitar?
RS: Just the guitar. I am a specialist.

hbh: The acoustic guitar, the electric guitar. What kind of equipment do you have?
RS: Oh man. I have a music store in my basement. I have three different types of amplifiers I use generally. Fenders, Marshall and Bogeys. I have 32 guitars.
hbh: 32!
RS: Yeah. This is an electric nylon guitar I borrowed for the tour.
hbh: With a trigger?
RS: A trigger?
hbh: Yes, I have seen Pat Metheny using guitars with triggers.
RS: Oh, yes. Guitar synthesizers. I have guitars like that and a couple of guitar synthesizers. I have actually Pat Metheny's first one, the first he played, a Roland GR 300, the very first guitar synthesizer. Beautiful instrument.

hbh: So you can also play keyboard!
RS: Oh, yeah. Per the guitar. That's a good point.

hbh: Thank you for the interview.
RS: That's fun. I thank you. (Richard had to leave for the sound check.)