"Under your Spell" by Shakatak – reviewed by Chris Mann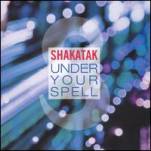 Shakatak have been a household name for over 20 years. They are exceptional in a couple of ways: they have won popular acceptance by writing catchy, energetic songs but stayed close enough to their jazz-funk roots not to alienate their hardcore fans and since 1982 they have had the same line-up.
That line-up is keyboard player Bill Sharpe, whose piano sound became the early trademark of the band, drummer Roger Odell, singer Jill Saward and bassist George Anderson.
Their extensive catalogue includes the huge-selling "Night Birds" and "Down on the Street" and the very funky and satisfying "Shinin' On" from 1998. In the late 80's and 90's they enjoyed major success in Japan – indeed "Under Your Spell" was released there in 2001, a full year prior to its release in the USA. Time to see what they've enjoyed for a year…
Sunshine is a gloriously upbeat and catchy vocal chant, which is so optimistic you'd probably know what it was without reading the liner.
The tempo drops for the vocal Falling but the mood is still sweet and soft. Jacqui Hicks' backing vocals are sublime on this one.
Bill Sharpe's clean piano leads on the gently hip-hop flavoured The Squizzle. Nice backbeat, scratching samples and a lazy groove make the perfect backdrop. I like that echoed, muted trumpet sample too…
There's a classy feel on Paradise Garden. That insistent bass underpins the piano and the longer I listen, the more I get into this one. Roger Odell's rimshots keep this just ticking over. In parts it sounds old-fashioned and that just adds to its charm.
Modern as can be is the urban Under Your Spell. This song is nice and moody. To me, the backing vocals are more satisfying than the lead – they are more soulful somehow. Is this destined to be a single? It should be.
All you old jazz-funkers, listen to the intro to Changes and you'll hear echoes of an old Deodato number – is it "San Juan Sunset"? Seriously old skool! The vocal makes you realise you're not in a time warp. Backing vocals are once again kickin'!
There's more old skool vibe on Running Back to You. Vocoder, spacey synth, nice backing vocals (here I go again) and a groove that's going to get to you. That mix of 'dry' vocal and vocoder is just what dance acts have been doing for a couple of years. Listen for shades of Incognito all over this – love it!!
Deeper into the groove – Tahitian Nights is sexy and a nice mid-tempo dancer. If this had a mellow tenor sax or acoustic guitar solo and a cool key change I'd have it on endless "repeat".
Night Time is a disco record – unashamedly a disco record. Shakatak rode the disco wave first time around and this could do serious dancefloor business now. I'm listening for a more muscular bassline from George Anderson – someone say 12" remix?
Quiet stormers will lap up In My Mind. The soprano sax, courtesy of Chris "Snake" Davis, sounds sweet. The key change has to be heard a couple of times to get comfortable with it. If those finger snaps had massive reverb on them, they'd sound corny – but, you know, they'd sound fantastic.
Light on its feet, shades of Paz, shades of monster flautist Dave Valentin – that's Til' Sunrise. The vocal chorus brings a Brazilian flavour. This is blissful – it's very jazzy and that mellow, bubbly bass is everywhere. Mmm…
Drama and a nice backbeat characterise Silver Falls. That bass synth and bass guitar fills work very well and that cool piano floats over the rhythm just, well, just like you want it to. Leaves you wanting more.
A classy ballad to end. Tell Me Tonight features another sweet female vocal and even sweeter alto sax.
Maybe I gave the impression of Shakatak as a versatile and very in-tune band. That was deliberate. They have been around a long time and have obviously observed and reacted to trends in jazz, funk and soul really well. There are enough vocals to guarantee radio play and a variety of moods to keep everyone happy.

Instinct Jazz 607 – Produced by Shakatak