I began in the music business at age 15, shortly before I got my first driver's license. Since then I have been blessed with some really great experiences along the way, like playing trombone with the Count Basie
Orchestra as a young man age 24. I also had the opportunity to record an album on a major label in 1975 ("Vibes of Truth"-The Three Pieces / Fantasy 9476).
This came about through my association with jazz legend Donald Byrd, as did the Blackbyrd's recording of my original instrumental "Gut Level" (which actually charted in the top 40 in 1974). I met Dr.Byrd as a
student at Howard University from which I earned a bachelor's degree in music (Class of '73). That's me playing trombone on the smash hit recording "Bustin' Loose" by hometown buddies Chuck Brown and the Soul Seachers.
Currently, Bill Pinkney and the Original Drifters have recorded my song "The Same Candlelight", which has been released on the Repete and World Wide Gospel labels. As a keyboardist I did some road work
with Harold Melvin and the Bluenotes in the 70's and Wilson Pickett in the mid-80's.
Others I have played my horn behind include Ella Fitzgerald, Marvin Gaye, Aretha Franklin, Sammy Davis Jr., Nancy Wilson, Gladys Knight,
Joe Williams, the O'Jays, Johnny Taylor, Millie Jackson, and many others. A few years back I even recorded a track with another hometown hero, DJ Kool.
Presently I continue to do gigs with the O'Jays when they are in the
Baltimore-Washington area. This is always exciting because we are often on shows with such other R&B legends as EW&F, Maze featuring Frankie Beverly, the Isley Brothers, the Whispers and many others.
Although performing with these stars is a privilege and honor, my
main source of survival has come from a host of wonderful families in the Washington DC area. All the weddings, birthday parties, retirement parties, anniversaries etc., have kept me afloat more than anything else. Too many to name here, these families will always have my sincere and heartfelt gratitude.
I am also currently active trying to upgrade my demo's and, thanks to MP3.com, present my work to a much larger audience. To sum it all up, I am truly grateful that our CREATOR has allowed me to pursue the 'path of the artist' by blessing me with wonderfully supportive family, friends and fans.

Further informations here:
"I'm really impressed with the intimacy of the sound of the Three Pieces," says Donald Byrd of his latest "find." "They are both dynamic and subtle, and although there are a lot of other instruments on the album, the essence of the sound is a trio."
(The Three Pieces are Lincoln Ross on trombone and keyboards; Andre Richardson on cong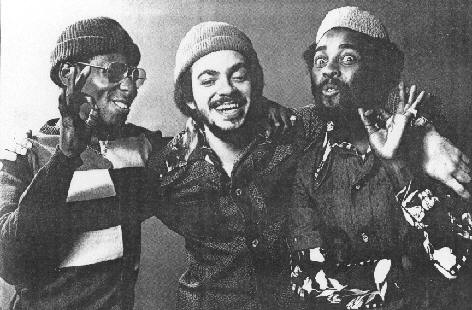 as and percussion; and Jerry Wilder on bass and lead vocals.)

Byrd continues. "Lincoln Ross, the leader of the Three Pieces, studied with me at Howard University. He was always a promising student, with a tremendous talent. He approached me about recording some time ago, and I knew he was ready."

The first album by the Three Pieces' (Vibes of Truth, F-9476) was recorded at Fantasy Records' Berkeley studios in January 1975. Producer for the date was Donald Byrd, with long-time Motowner Wade Marcus co-producing, under the aegis of Blackbyrd Productions.
The Three Pieces, like the Blackbyrds, all hail from Washington, D.C., although only Lincoln Ross studied at Howard. The group is unique in that, although they're quite young, they've had a tremendous amount of experience with veteran soul acts.

Ross, an Aries, plays the tromboneeasily not an essential component to most touring soul acts. When a big-name act hit Washington, D.C. and needed to fill in the trombone, Ross was there. He has worked with Marvin Gaye, Gladys Knight and the Pips, the O'Jays, the Dells, Harold Melvin and the Blue Notes, the Whispers, and Nancy Wilson. Ross worked with Count Basie for some time and has done a-small amount of road work along the mideastern seaboard.

Ross graduated from Howard with a B.A. in 1973; he majored in the trombone. "I was there the whole time Donald was-1968 through 1973-and needless to say, I learned a hell of a lot from him. He's got the contacts and the experience -besides the music!"

Ross also plays keyboards. "I was kind of pushed into playing the piano. I got together some money once and
bought an electric piano, just to have around the house for fun. Then, simply because I had it, I'd have to bring it to gigs, and now it's turned out that I'm playing it just as much, if not more, than the trombone! "

Lincoln pooh-poohs the idea that the trombone is one of the more difficult instruments to play. "No, I don't believe that. The trombone seems hard because the learning curve is so slow at the beginning, because of t~e slide. So people tend to get discouraged with it."
The Three Pieces also have tremendous writing talent. All the tunes on this album are originals (except "Shortnin' Bread")-and they run the gamut from dancey disco numbers to great balladinspired tunes. Ross wrote one of the Top 30 disco hit singles of 1974-"Gut Level" by the Blackbyrds (on F-9444).

How do the Three Pieces actually come up with tunes? "Well, there isn't any pattern to the way we work together," says Ross. "The way every song is written is a different thing. Each one of us might get a different idea, and then when we get together at rehearsals, everybody puts their idea out there. But we all have very concrete ideas when we come in or it's a waste. After we get those basic ideas, and define them, then it's just like playing with blocks! That's the groove."

Percussionist with the Three Pieces is Andre Everett Richardson, a Capricorn. Richardson began studying drums when he was 12 at MacFarland Junior High in Washington and he's never changed or played any other instruments. He was a member of the drum and bugle corps, and has also done shows with Harold Melvin and the Blue Notes, the Whispers, and a whole string of lesser known, East Coast soul acts. Richardson has recorded with Joe Tate and the Blendells. Unlike the other two, Andre has a definite interest other than music-and that's commercial art. He's a professionally trained commercial artist, with much experience in illustration, line drawing, and advertising layout and design.

Lead vocalist Jerry Wilder, a Cancer, rounds out the Three Pieces on bass. Wilder tells his story: "My brother got this guitar for Christmas about ten years ago, and I picked it up and started messing around with it. I was playing all the bass parts on the guitar, but I thought I was playing the guitar. Then, one day I played the same parts on the bass guitar, and it all clicked. I haven't played anything else except the bass ever since." Wilder has never had a lesson in his life; he's learned it all the other way. "I've got a long way to go, but I feel like I'm getting somewhere. The only thing I've ever wanted to do was be in a band and make records and travel and play concerts and clubs."

The Washington, D.C. music scene is thriving and highly populated. "There's a club with a band about every other block here. just getting any kind of a music gig in D.C. is a struggle!" says Wilder. The Three Pieces all came from the group called Sound Service, a ninepiece band which tried to make it in Washington. When Sound Service broke up about a year ago, Lincoln, Andre, and Jerry stayed together as the Three Pieces.

Wade Marcus, co-producer on Vibes of Truth, says of the Three Pieces: "They're tuned in musically to all kinds of stuff, and they've got great backgrounds. They're not single-minded in their thinking at all-they can do anything, The Three Pieces are quite remarkable; they're very open to all kinds of suggestions, and yet they have that innate taste to know what is going to sound best!" Wade Marcus was a staff producer with Motown for many years before going independent and doing this work with Blackbyrd Productions.

Comparisons between the Three Pieces and the Blackbyrds will no doubt be drawn. The similarities are obviousstemming from their intimate musical involvement with Donald Byrd-but the differences are there too. The Three Pieces have nowhere near the academic musical training of the Blackbyrds, and yet they have a lot of street-wise experience in their favor. The Three Pieces intend to play as many concert and club dates as possible, and with Donald Byrd helping out on that end of things, their chances for success seem high.

April 1975