Demo Gates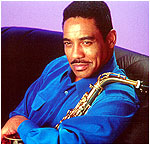 The complexions of our emotions told through soul; the rhythmic seduction for sweet surrender illustrated by pitch and tone…simply the spiritual potency of the saxophone. The sax plays our pain and stirs our hearts with a breath of sonic truth. A soulful rhapsody of a singer, musician, and actor within one sublime talent, that of Demo Cates
Cates has earned the respect of Jazz musicians at home and abroad with his visionary method and superlative talents, he now attempts to give his fans more of him with his swooning tunes, inviting you to 'try something new' by visiting his website, www.democates.com for the latest pictures, concert dates, and tracks from the acclaimed sax-player giving a sneak peek of his new album titled "Smooth…Try Something New".
Grown and developed in Detroit Michigan but exposed and revered in Toronto , Cates is a mature Musician and Vocalist from Detroit who in his words, 'plays on emotions and allows the sax to translate inspiration in smooth and sensuous sounds.' The "7 Mile", Latin and R&B Music inspired Detroit native, sources the Motown era as his constant source of motivation for his first band, The Fabulous Counts , a 4-piece band that opened for greats like Al Green and Stevie Wonder.
Having honed his craft since the age of nine, Cates mesmerized audiences with his skills with the sax, but it was musical stage productions that challenged him in all areas. From early years in training at the Lee Strasberg Acting School , to playing "Mufasa" in the Broadway production of Disney's, "The Lion King", Cates has had the opportunity to fully showcase his musical and vocal gifts. Drawing upon his unique perspectives on life from a vast life experience, success is often downplayed by this humble man of spirituality, who sees his mission as only half-done. Clearly a man lead by his faith, beliefs, it is easy to bask in his joyful karma, wrapped in the raspy voice of a true musician. "'Tis this joy of inspiration, empathy, or motivation which touches your heart through artistic wisdom."
Cates still enjoys learning with others and discovering his own talents and is grateful for the chance to be a messenger in song. After selling 90,000 units on the streets with The Fabulous Counts, opening for all his musical idols, and performing on Broadway, Cates still considers his music a sweetened delivery of a varied upbringing supervised by his mother. From the rhythmic skills and potent tones of Eddie Harris and Charlie Parker, to the dancing groove and felicitous flavor of Santana's guitar blaring through the night-time streets of Detroit , he recalls these magical days as if they were yesterday. Music was a source of therapy in his youth, and it is this gift that Cates would like to pass on to his audience in the hopes that it will bring them comfort and hope.
Defining his music as "the means of expression between my soul and the audience…" the new album, "Smooth…Try Something New", represents the current state of his soul. The acclaimed sax-player, always seeking new avenues for his music, has launched Final Faze Music Inc . to independently market and distribute his new record online. Visitors can easily access the latest tracks, pictures, concert listings and bonus material available to his growing fan-base through his website, www.democates.com Fans now have a direct link to the artist with newsletters and track-by-track commentary on new and released material, as well as information from recent interviews and performances. Visit Demo Cates to sample the new album at www.democates.com and live the experience your self!