The Roberts Brothers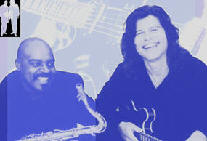 Jimmy Roberts, best known as saxophonist for Rod Stewart, was born in Suffolk, Virginia, where he studied music under the direction of Frank Carballo. Later he lived in Canada for a few years of touring and recording. After moving to Los Angeles, Jimmy got introduced to the LA music scene by his old friend Smitty. Soon he found himself in the L.A. studio clique as one of the most sought after session players.

Peter Roberts is a classically trained musician, producer and songwriter who has recorded several highly acclaimed albums of his own material. While living in Europe he was well known as a session guitar player as well as a producer/songwriter with a track record of over 25 albums and 70 singles for numerous major and independent record labels. After relocating to Los Angeles, Peter set up his own recording studio and began writing and recording in collaboration with other writers and artists.

Peter Roberts ran into Jimmy Roberts for the first time during a recording session in Paris. They became friends and ended up talking about doing a project together.

As the years went by, Jimmy was recording and touring with such artists as SADE, ROD STEWART, BONNIE RAITT, ETTA JAMES, GREG ALLMAN, while Peter produced and wrote for GEORGE BENSON, SURVIVOR, IRENA CARA, VESTA WILLIAMS, FALCO, LISA FRAZIER, VANN JOHNSON and others. He was also writing and producing music for various TV-Shows (Guiding Light, Another World, Malibu Shores) and several Feature Films (How To Be A Player, Pure Danger, I Think I Do, Sinful Intrigue).

In summer of 1998 the time seemed right to finally begin their project. After they started to write and record on a regular basis in Peter's BLUE DANUBE Studio. Since they got along so unusually well ("we just felt like brothers"), the next logical step was to pick the only name for their project that felt right: THE ROBERTS BROS.

Titled "Sugar and Spice" the first "THE ROBERTS BROS." album is a sultry, sexy Smooth Jazz / Adult Contemporary offering which combines the awesome saxophone talents of Jimmy Roberts with extraordinary guitarist Peter Roberts.
The CD will be released on BDM Records this spring.