Peter Roberts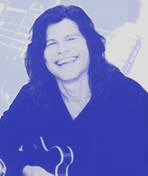 A classically trained musician, producer and songwriter who has recorded several highly acclaimed albums of his own material.
While living in Europe he was a well known session guitar player as well as a touring musician. Later on he established himself as a producer/songwriter with a track record of over 25 albums and seventy singles for numerous major and independent record labels. Over a hundred of his songs were recorded and released by various artists.
After relocating to Los Angeles in 1993, Peter set up his recording studio and began writing and recording in collaboration with other writers and artists. In 1996 Peter produced two tracks for Irene Cara. Released in the States in '97, the second single ("All My Heart") leapt up to the Top 20 in the Dance Charts.
Peter had a #1 hit when George Benson recorded his song "All I Know" (GRP), and the song he wrote for Bryan Duncan ("No Greater Love"), (Myrrh Records), went up the Christian Charts to #16. He has also recorded, produced and written for Stan Bush ("Always"), (Vivian/BMG), Vesta Williams ("Out On The Limb") (I.E.), The New York Voices ("4th Of July") and Vann Johnson ("Don't Forget", No One Else", (1022 Records). Many of his songs and recordings are being used on TV shows, including "Guiding Light", "Another World" and "Malibu Shores". The song "4th Of July in Mid- December was used in the Polygram Movie "How To Be A Player". Some of his other songs are used in feature films like "Pure Danger", "I Think I Do", "Sinful Intrigue" and "Love.com".
Peter co-wrote seven and produced six songs for the group "Brodeeva". They are signed to Magnet Vision, Maurice White's Label (Earth, Wind & Fire). The group consists of two singers: Chad Howlett and Earl Bryant Jr.
Lisa Frazier, another artist Peter has been working with, is signed to the European label UDP. Her first Single "Somewhere Tonight" reached #2 in the DMA Dance Charts in England. Peter wrote eight of the ten songs and produced the album, which is due for worldwide release this fall.
Last year Peter co-produced the comeback album of the group Jimi Jamison's Survivor ("Empires")/USG Records. This highly acclaimed album was called the best or one of the best Hard Rock/Heavy Metal releases in 1999 by several international Hard Rock magazines and websites.
His latest musical endeavor is the duo "The Roberts Bros." in which Peter joined forces with legendary saxophonist Jimmy Roberts. Together they collaborated on writing and producing their first album "Sugar & Spice", which has been available on BDM Records since September 2000. The Roberts Bros. were recently nominated for the Prism Award for the "Best New Up and Coming Artist" by the Oasis Smooth Jazz Awards.
Peter also just finished the new album of Smooth Jazz/Pop vocalist Marcus Matthews ("All I Want"). Peter co-wrote six of the ten songs and produced in collaboration with Lupo Groinig. The album will be released on BDM Records in July 2001.