Steve Quinzi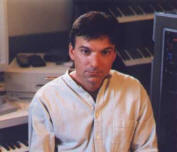 Born in Philadelphia in 1954, Steve began playing the piano at age 9. Though heavily influenced by the jazz and Frank Sinatra records his father played at home, he also developed interests in rock, R&B, folk and classical music, and by high school found himself playing in local bands and writing songs.

His first band, Blessed End, recorded a self-produced album entitled "Movin' On" in 1971 which has became something of an underground classic. He graduated to the nightclub circuit playing the Philly/South Jersey area with the annual summer gig at the Jersey shore (which was "mandatory" at the time). Somewhere during this time he also did a one year stint with 50's rockers Danny and the Juniors, playing 50's revival shows and nightclubs around the country.

He eventually moved to Miami to study music at the University of Miami. South Florida presented a whole new set of musical influences. Latin and Caribbean music such as salsa, merengue, reggae, and calypso pervaded the air, providing an interesting contrast to the jazz and classical music he studied in school. He embraced these new influences, and incorporated them into his education. He stayed at UM long enough to earn a bachelor's degree in jazz piano performance and a masters in composition. After graduation he began performing, arranging and directing for various Latin American recording artists, doing several tours of South and Central America, including a two-year stint as musical director for Puerto Rican pop star Chayanne.

In 1990 he started Steve Quinzi Music, a company that creates music for radio and TV commercials, film and video productions, special events and multi-media. His diverse list of credits include numerous jingles and special events scores, theatrical scores, commissions for pops orchestra, productions for local artists, work in education, dozens of articles on music technology, and a book entitled "Synthesizer Orchestration - a creative approach for arrangers and synthesists".

In late 1997, Steve met producer Sergio Cossa (Co-owner of Emergency Music and Pacifictime Records) while doing a remix of the hit song "Let the Music Play". Sergio persuaded him to do an album of his original music. The result, "Rhythm of the World" was released in April of '99 - the first of many albums for Pacifictime.

He's currently juggling the activities of running a busy music production business, with teaching as an adjunct faculty member at Miami-Dade Community College Kendall Campus. He's begun work on a new album, and tries, as much as possible, to remain active in Miami's vibrant music scene.