Sammy Peralta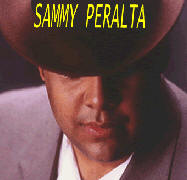 Sammy Peralta loves music. That pure and simple fact comes through strikingly clear as he sits at his keyboard tinkering with half-written tunes stored in the rack-mounted computerized studio he's diligently put together in his spacious Washington Heights apartment in New York's Upper Westside.

Peralta's music, much like his personality, exudes good-spirited warmth and energy. "I have to be careful," he laughs, "because I can get so lost in the music sometimes." Sammy Peralta, a native of New York, began developing his broad musical range when, as an elementary school student, was accompanied to a classical music concert. "I knew right then that I wanted to be a musician," he now says.
At that point young Sammy wasn't bent on any particular musical style; he had discovered the language of music and knew simply that it was one he had to learn to speak. "There was something about hearing the music live that touched my soul. That probably sounds corny, but it's the truth." Sammy was so awe-struck by the emotional depths music could tap into that as early as junior high school he became an "outsider" when he opted for carrying his saxophone to school everyday instead of a football or basketball.
By the age of fourteen, he was performing with the Manhattan Borough-Wide Orchestra and receiving the type of stellar accolades normally reserved for someone well beyond his years. It wasn't until he entered New York University, however, that he began to realize his potential. At that time, there were so many great musicians and instructors at the Greenwich Village based school, that Sammy began to grow in leaps and bounds. "To think that here I was getting praise from some of the best in the field was pretty mind-boggling." Peralta laughs heartily. "In fact, it was almost as mind-boggling as when Carl Griffin told me he had a producer he wanted me to meet and showed up at my door with Lenny White! I was trying to be cool - like, 'hey, what's up Lenny?' - but inside I was going, 'damn, Lenny White is in my house talking to me about my music."
Peralta's apprenticeship at NYU led to associations with some of the most respected musicians on, and behind, the scene. Over the course of a few years, Peralta, who graduated with a B.M. in Music in 1993, performed, recorded and/or studied with the likes of Tito Puente, Kenny Kirkland, James Zollar, Joe Lovano, Don Friedman, Walter Reinhold, Bob Sirota, David Raskin and Tom Boras, just to name a few. Along the way, Peralta paid the bills by playing all sorts of music and, unlike many of his jazz contemporaries, is not ashamed to say he made a decent income playing on pop recordings and remixing dance records.
Now a sought out producer, writer, arranger and musician in his own right, Sammy says it is hard to determine which is most important. "I truly believe," he says pensively, "that you have to be all three to even think in terms of achieving greatness," something he insists he doesn't do. Influenced by such greats as Charlie Parker, Miles Davis, John Coltrane, Duke Ellington, Billie Holiday, Chick Corea, George Duke, Wayne Shorter, Ron Carter, Elvin Jones, Tony Williams, Kenny Kirkland, David Grusin and, of course, Lenny White, Sammy Peralta wants to always have to strive to achieve their phenomenal level of musicianship.
"When you stack up the masters, that's an enormous legacy to live up to," he says in homage to them. "As for me, my career goal is a humble one - to do away with all labels attributed to music, to contribute all I can to the artform and to be the kind of father my son and daughter can be proud of. In the end, I want my children to be happy." An important component of that pursuit is On The One, an amazingly impressive debut disc that legend-in-waiting Sammy Peralta prophetically describes as "quoting scripture" from the jazz book of life.
Peralta's refreshingly wholesome approach to life is reflected in the collection of songs he's come up with for On The One, his debut effort released on the N-Coded Music label. Produced by Peralta and legendary rhythm-master Lenny White, the disc sways seductively as it transports listeners to a far off tropical place where the balmy night breeze wraps itself around urban-inspired smooth grooves.
"Sammy wanted to make music that would be different from so many other things out there," says N-Coded president Carl Griffin, who signed Peralta almost immediately after being floored by his self-produced CD. "The interesting thing is once he started writing for this project, he discovered that the best way to be different was to just be himself." Being himself allowed the twenty-nine year old multi-talented instrumentalist - Peralta's right at home on keyboards, piano, soprano sax, and percussion - to write all of On The One's ten stunning tracks. Songs like "On Top Of You," "Trust Me (I Gotta Go)," "Suzette" and "Jazziz" represent smooth-jazz at its radio-friendliest, while "Para Ti" and "Sabrosa" have Peralta liberally borrowing some tried, tested and found true rhythms from his Dominican roots. Two of his personal favorites, "1,001 Nights With You" and "West 72nd Street", showcase his polished, but heartfelt, keyboard chops.