Sam Levine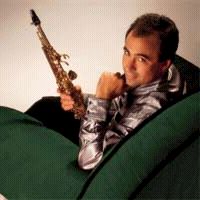 The musical sides to Sam Levine­studio musician, solo artist, band leader, arranger, composer­draw upon an eclectic musical background and masterful performances on saxophones, flutes, piccolo, clarinets, penny whistles, and recorders. Sam Levine is one of the most sought after musicians in Nashville¹s music industry. In addition, he has won respect as a composer, arranger, and contractor.

A native of Champaign, Illinois, Sam lived in Japan as a child, graduated high school at age 15, then attended Harvard University. He transferred to the University of Alaska then Indiana University School of Music where he studied under David Baker, instructor to saxophone legend Michael Brecker. Levine names David Sanborn, Cannonball Adderly, and Phil Woods as his major influences. He soon began making the rounds in the recording scene where he immediately met success as a session player. Sam continues to play a prominent role in the recording industry and is known for his tender and heartfelt renditions of contemporary hits.

As a studio musician, Sam has contributed to recordings by such legendary artists as The Neville Brothers, Michael McDonald, Andy Williams, Etta James, Clint Black, Amy Grant, and many more. He can also be heard on the motion picture soundtracks for Honeymoon In Vegas and Sweet Dreams. Being an eclectic listener and player allows him to swing from jazz to blues to country to pop and back again when necessary. As a solo artist and performer, Sam has collaborated with Christopher Cross, Whitney Houston, Al Jarreau, Liza Minnelli, the Nashville Chamber Orchestra, the Nashville Symphony¹s Pops Series, Mel Torme, and CeCe Winans to name a few. Sam serves as band leader for the Nashville-based dance band, City Lights Orchestra. This allows him to tap into his diverse musical background for partygoers across the Mid-South.

Sam and his wife Lee, principle clarinetist for the Nashville Symphony Orchestra are parents of Sybil and Reed. When play time arrives, Sam heads to the lake to enjoy his favorite hobby: slalom water skiing.


Appearing on other Green Hill recordings: Angel Melodies, Big Band Classics, Big Band Favorites, Big Band Hymns, Big Band Christmas, Classical Piano, Dixieland America, Dixieland Hymns, Dixieland Jazz, Dixieland Christmas, For Sentimental Reasons, For Sentimental Reasons Volume Two, Lovin¹ In The Fifties, Rockin¹ In The Fifties, Sentimental Season, Sweet Sounds of the Sixties, and Wish Upon A Star Volume Two

Sam Levine is known for his tender and heartfelt renditions of contemporary hits. Sam has been featured in live performances with such superstars as Whitney Houston and Al Jarreau, has recorded with Michael McDonald, The Neville Brothers, and Amy Grant, and has contributed musically to such motion picture soundtracks as Honeymoon in Vegas and Sweet Dreams. He currently resides in Nashville, Tennessee with his wife, Lee, and their children, Sybil and Reed.
Green Hill Discography:
Sax for the Spirit. Saxophonist Sam Levine presents 12 inspiring songs of life ranging from energetic pop standards to classic ballads. The result is a fun and uplifting collection of music that celebrates life, love, and faith.
Featuring music from box office blockbusters of the 70's, 80's, and 90's, this pop-oriented showcase of the talents of Sam Levine weaves beautiful melodies with the smooth sounds of pop sax. Highlighted by the Academy Award winning My Heart Will Go On from Titanic and the R&B anthem You Were There from Simon Birch, this recording boasts pure listening pleasure.
You need great sax ... again! Sam Levine returns with a follow up to the best seller, Great Sax. The soft, contemporary sound of the soprano saxophone over a soothing rhythm section interprets some of pop music's best songs. Revel in the past and anticipate the future.
You've grown to love Sam's interpretation of favorite pop songs, now savor his stylings of all time favorite Christmas melodies. From the cheerfulness of Silver Bells and This Christmas to the tenderness of What Child Is This and I'll Be Home For Christmas, you'll long for those quiet Yuletide moments with the ones you love. Celebrate the season this year with the soothing sounds of soprano sax.
Flute and guitar are the featured instruments in this driving, ambient recording. Supported by keyboards with hints of a Latin beat, this musical journey takes you through meditative images of wonders of the night and mysteries of the moon with a tapestry of melodies and rhythm. Original compositions by guitarist Jack Jezzro and flutist Sam Levine make up the unique material on this project.
If you enjoy the contemporary sounds of Kenny G, this recording is for you! This instrumental recording showcases Sam's talent with sleek '90s production and pairs him with master producer Jack Jezzro.