Clayton Wright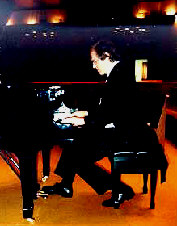 If you like smooth jazz, turn-of-the century (and later) piano music, you will like this CD in which the composer was influenced by the compositional techniques of Duke Ellington.

Clayton Wright has performed easy listening and light jazz piano music in many cities in the U.S. and in Europe, electrifying audiences with amazing recitals.

The title tune on this CD was recently recorded by a fantastic band from Salt Lake City, Utah, called "Salzburger Echo". The name of the tune was translated to German: "Spiegel der Liebe", and is on their third CD: "Pasteurized".
This debut CD by Clayton Wright is an enjoyable mixed bag of easy-listening, smooth jazz piano solos. Quite a few of the selections have the sound of century-old light classical pieces, so I can't comfortably call this new age (whatever that is!).
"The Ultimate Atmosphere", "Image of Rain", and "Nightfall" are moody and seem a bit more new age-y, but the other pieces are old fashioned. The twenty-one
original pieces are mostly shorter than three minutes, and range from simple little melodies to gentle stride and ragtime stylings. Althoughthere is a broad range of musical styles, the CD as a whole is quiet and peaceful. There are no pianistic pyrotechniques, but there is nothing wrong with that! "A Night on the Town" and "My Love for You" could have easily come from Scott Joplin or one of his colleagues who composed" classic ragtime", which was meant to played as written rather than improvised or embellished with a lot of flash.
Wright has included three simple and charming waltzes that also have a turn-of-the-century feel. Tango and Latin rhythms drive several more tracks, so there is a very eclectic feel to the CD as a whole. "Nightfall" is my favorite piece on
this album - the left hand is a bit more complex here than on some of the other songs, and the melody is haunting. It's a very lovely piece! If you are looking for some sweet and old-fashioned tunes that are lovingly crafted and played, check this one out!
© Kathy Parsons, Solo Piano Publications
Available from www.audiopiano.com
and www.cdbaby.com/wrightc
http://www.121music.com/pages/cd52/reflections.html