Phil Walker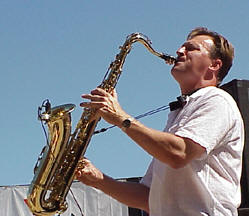 Phil always had a natural attraction to music. There was always a piano in the house that he would tinker with as a little boy and play mini performances for family and friends without formal training. One day mom decided to give him lessons and that was the end of his piano career. As many kids do, he resisted learning from mom and was determined to pick an instrument of his choice. One evening, while watching a football game on TV with his dad, Phil saw Boots Randolph playing the national anthem and immediately new what he wanted to do. Phil began taking private lessons from day one and found success very quickly.

It was not uncommon in high school to hear announcements that Phil had been selected for the All-Southern, CA. or All-State Honor Bands. College brought new successes when Phil played in the Fullerton College Jazz Band in Fullerton, CA. In 1984 the band was rated the best collegiate jazz band in the United States by Down Beat Magazine. College ended with Phil being selected to be one of 800 college students to perform in the opening ceremonies of the 1984 Olympic Games, in Los Angeles.

In the mid 80's the market for Smooth Jazz didn't really exist so Phil moved into the business world to make a living. In 1997 he decided that he had to begin playing again just to satisfy his soul and so he began to form a band. With only a drummer and bass player it was beginning to come together when Phil was diagnosed with a rare disease that caused the total loss of hearing in his right ear. While lying in his hospital bed awaiting a second surgery to restore his hearing, he decided to no longer take the gift of music for granted. On the way home Phil made a stop at the Guitar Center in Hollywood and purchased a composition keyboard so he could begin writing music again. While recovering he wrote a medly of Christmas songs for a his first performance. The day after the show he received a call from a local promoter that had heard about it and asked Phil to play for his company Christmas party. Two months went by and another call comes from the same promoter asking if Phil could open for a Guitars and Saxes Show with Richard Elliot, Peter White, and Craig Chaquicco in 6 days!

The momentum hasn't stopped since. Following that show, Phil released his first CD, "Better Late Than Never". Next was opening for Bamboo Forest with Steve Reid and Jeff Kashiwa, and then another Guitars and Saxes concert with Richard Elliot, Jonathan Butler, and Mark Antione. To top off the year Phil was one of eight acts at the KEZL 10th Anniversary Jazz Festival with The Rippingtons and Norman Brown. Most recently was the KIFM The Breeze Jazz Festival in San Diego with Boney James and Avenue Blue followed by a concert with Chuck Mangione.

The past year has been dedicated to CD number two, "Passion Thing", which was released in April'2000. There were many more concerts in 1999, including the KIFM The Breeze Jazz Festival in San Diego with Boney James and Avenue Blue and another with Chuck Mangione. For the 2000 concert season, Phil has been in concert with the Dave Koz, Brain Bromberg, Jonathan Butler, Norman Brown, Joyce Cooling, Chris Standring, Marion Meadows, Roger Smith, James Brown (the godfather of soul), and the Rippingtons.