Life Force 1996
---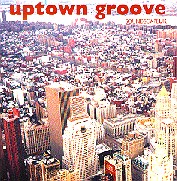 Uptown Groove
One usually understands by the concept of soundscape a musical composition consisting of a texture of sounds or the sounds which form an auditory environment. Soundscape UK is more than this. The former Style Council-er Mick Talbot and Chris Bangs (Quiet Boys) create a contemporary soundscape with a whole flavour of it's own mixing Urban Groove, Jazz Funk, dancefloor music and Smooth Jazz.
Uptown Groove is the third milestone in the history of this music after the albums Smooth With A Groove of 1998 and Life Force 1996.

The starter Uptown Groovin' is a clabbing dancefloor groove with george-benson-ish guitar sound and Lisa Grahame's excellent lead sax.
Never felt love , a retro-phillysound tune, reveals Opal's wonderful voice. A very rhythmical dance act with massive perssion support.
Feel the love is a midtempo Smooth Jazz tune with a sultry duett between Lisa Graham's intimate sax and Nigel Price 's fabulous guitar playing anew in the George Benson style. The background percussion was delivered by the wellknown Gota Yashiki as groove activator.
The new groove a rhythm-emphasized tune showcases Lisa Grahame's sax and Dave Priseman on trumpet and last not least Gota Yashiki with his gripping percussion.
You make it heaven, an impressing cover of Terri Wells Classic, clarifies Opal's protruding chant-abilities.
Steppin' out is dominated by Lisa Graham's saxophone supported in a change-play by Nigel Price 's guitar.
Higher and higher, a wonderful romantic duett between Lisa's sax and Dave's trumpet on a heavy rhythmical drumprogramming background, reminds me of Herb Albert's great tunes.
More love is a slow piece with Opal's seductive vocals. One of those tunes, which would fit for those love songs compilations, we all appreciate.
East river drive accelerates the tempo to a dancefloor groove. Also this tune manifests the high quality arrangements. All songs without you make it heaven were written by Chris Bangs and Mick Talbot. More love was written by Opal and Chris Bangs.
On the slowtempo followup Magic Hour we can anew listen to Opal 's mellifluous voice. She sings the lead and background vocals.
What a tremendous finish! Terra Mia is a salsa, as one usually hear it from Gloria Estefan. I mention her name, because the tune reminds me of her similiar named tune Mi Tierra. Lisa Graham on flute and Dave Priseman on trumpet are the outstanding matadors of this piece.
Well, if I had to rank this album, I would give a A+ without hesitating. This album is uncompromisingly but perfectly radiolike.
© HBH