Chuck Rainey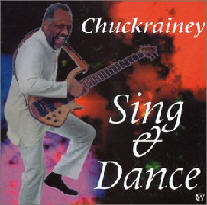 Another instrumentalist more widely associated with soul, pop, funk and R&B, yet highly respected by jazz musicians, Chuck Rainey's been a star electric bassist since the '60s. While Jaco Pastorius and Stanley Clarke featured flashy, blistering playing and approached electric bass as if they were improvising on a guitar, Rainey's forte has been a heavy, steady pulse and vigorous support, fitting into a rhythm section and locking onto a groove with a vengeance. Rainey studied violin, piano and trumpet in his youth, then moved from Youngstown to Cleveland at 21. He played electric guitar and bass in various R&B bands, then joined King Curtis' group in New York during 1964. Rainey's done hundreds of recording sessions since then, but has also done a fair number of jazz dates. He played with Jerome Richardson, Grady Tate, Mose Allison, Gato Barbieri and Gene Ammons in the late '60s and early '70s, as well as with Eddie "Cleanhead" Vinson at the 1971 Montreux Festival. Rainey toured and played that same year with Aretha Franklin. He moved to Los Angeles in 1972, and worked there with The Crusaders and Hampton Hawes, and recorded with Donald Byrd, Sonny Rollins and John Handy in the mid-'70s. Rainey recorded in Japan with Hiroshi Fukumura in 1978. He's made two rare dates as a leader for Cobblestone in 1971 and for Hammer n' Nails in 1981. Neither is around today, but Rainey can be heard on many discs by Franklin, Curtis, Rollins and others.
— Ron Wynn © AMG
NEW CD RELEASE - SING & DANCE
Artist: CHUCK RAINEY
CD PERSONNEL:
DON Bell, Guitar
RUSTY Burns, Guitar
ELLIOTT Randall, Guitar
JEFF Williams, Keyboards
BELINDA Lopez, Keyboards
MICHAEL Hamilton, Keyboards
GEORGE Florence, Keyboards
REX Mauney, Keyboards
BERNARD Purdy, Drums
JERRY Saracini, Drums
BUZZY Gruin, Drums
MIKE Gage, Drums
DREW Conor, Percussion
Producer: Rusty Burns, Recording Engineers: Paul Middleton & Rusty Burns
Mastering: Jeff McCrae / Lab 1, Recording Studios: Palmyra Recording Studio & First Degree Recording Photographers: Deborah Stuer - Cover & Back Photos,
Larry Copher - Back Photos CD Design: Larry Copher Printer: Crystal Clear
During 3 decades, I have had the fortune of participating in the recorded successes of many artist and I have fond memories of songs and song styles that are personally special to me. This project consist of arrangements on 4 unrecorded originals and 8 cover songs performed by some of my favorite recording artist that include Steely Dan, Allan Tousaint, Bobbie Gentry, Johnie Taylor and Otis Rush.
- Chuck Rainey -
RECORDING CREDITS AS BASSIST
Cannonball Adderly
Mose Allison
Gene Ammons
The Archies
Louis Armstrong
Patti Austin
Roy Ayres
Gato Barbieri
Lavern Baker
Shirley Bassey
Walter Becker
Harry Belafonte
Maggie Bell
Brook Benton
Delaney Branlett
Oscar Brown, Jr
Jackson Brown
Ruth Brown
Gary Burton
Jerry Butler
Paul Butterfield
Donald Byrd
Valerie Carter
Ray Charles
Joe Cocker
Perry Como
Crusaders
Hank Crawford
King Curtis
Betty Davis
Phyllis Diller
Fats Domino
Peter Duchin
Les Dudek
Cornell Dupree
Ronnie Dyson
Shirley Ellis
Eye To Eye
Donald Fagen
Faith, Hope & Charity
Percy Faith
Georgie Fame
Ferrante & Teicher
Roberta Flack
The Four Seasons
Aretha Franklin
Irma Franklin
Marvin Gaye
Eric Gayle
Grant Green
Johnny Hammond
John Handy
Gene Harris
Alex Harvey
Donny Hathaway
Hampton Hawes
Edwin Hawkins
Teramasu Hino - Japan
Red Holloway
Linda Hopkins
Lena Horne
Fred Hubbard
Bobby Humphrey
Bobby Hutcherson
The Jackson Five
Jermaine Jackson
Michael Jackson
Etta James
Tom Jans
Quincy Jones
Rickie Lee Jones
Margie Joseph
Karma
Albert King
John Klemmer
Labelle
La Lupe
Yusef Lateef
Peggy Lee
Little Feat
Nils Lofgren
John Lucien
Cheryl Lynn
Jr. Mance
Main Ingredient
Miriam Makeba
Manhattans
Herbie Mann
Bob Marley & The Wailers
Percy Mayfield
Letta Mbulu
Van McCoy
Mary McCreary
The McCreary Family
Gene McDaniels
Ralph McDonald
Gary McFarland
Jimmy McGriff
Sergio Mendes
Bette Midler
The Mirettes
Blue Mitchell
Melba Moore
David Newman
Laura Nyro
Robert Palmer
Jr. Parker
Peaches & Herb
Amanda Peraza
Esther Phillips
Shawn Phillips
Pink Lady - US & Japan
Pointer Sisters
Rodena Prestone
Lloyd Price
Elliott Randall
The Rascals
Della Reese
Irene Reid
Jerome Richardson
Minnie Ripperton
Smokey Robinson
Sonny Rollins
Ruby & The Romantics
Mongo Santamaria
Merle Saunders
Leo Sayer
Shirley Scott
Tom Scott
Marlena Shawe
The Shirelles
Don Shirley
Paul Simon
Nina Simone
SMAP - Japan
Dusty Springfield
Soul Makossa
Staple Singers
Ringo Starr
Steely Dan
Connie Stevens
Barbara Streisand
The Sweet Inspiration
The Sylvers
Ta Ta Vega
Grady Tate
Howard Tate
David Clayton-Thomas
Cal Tjader
Frankie Valli
David T. Walker
Dionne Warwicke
Waters
Barry White
Pat Williams
Jimmy Witherspoon
Bobby Womack
Sarah Vaughn
Voices Of East Harlem
Miwa Yoshida - Japan