Metro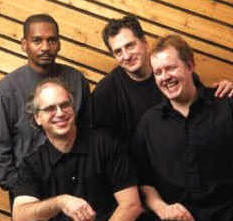 The band was founded in spring 1994 by Chuck Loeb and Mitchel Forman, who have dreamed of starting their own cooperative band project for over 20 years since they worked together for Stan Getz. During their long career they have often met again - including for a tour and live-album by saxman Bill Evans called "Petite Blonde", but they have never led a band together before "Metro".
For the steady band they looked for a great bassman and drummer. So German drummer Wolfgang Haffner was invited on the recommendation of bassman Anthony Jackson who had worked with him on several occassions in Europe - and it worked out great. The band recorded their first album - called metro like the band - directly after the tour at the "Hansahaus"-Studios in Bonn, Germany.
In spring 1995 Anthony Jackson left the band and was succeeded by bassman Victor Bailey (ex-Weather Report, Petite Blonde, Madonna a.o.). They recorded their second album "Tree People" in NY.
The first Metro CD featuring Chuck, Mitch, Wolfgang and Anthony Jackson. Recorded in Germany, this CD captures the excitement of a new band being formed.
"Tree People", recorded in NY continues the supergroup,s task of redefining fusion music for the new century. Victor Bailey joins the band for this outing.
Their third CD. Metrocafe was recorded in 1999 in Los Angeles. The group will be performing throughout Europe and the US in late 2000.