Thomas McElroy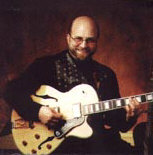 1975: Tom gets his first guitar and starts to take classical lessons.
1976: Tom starts to study jazz guitar with a local jazz teacher
1978: Tom decides to make music his life and goes to Cornish Institute of the Allied Arts focusing on performance, composition and arranging. Has a lesson with George Benson and later that year studies with Pat Martino.
1980: Tom's theory teacher, Gary Peacock, tells him to leave school and go on the road and get some playing experience. So Tom goes on the road with a rock band getting first hand experience playing live and touring heavy.
1982: Tom moves to Dallas to study with his jazz guitar teacher. Ends up staying 2 ½ years. Becomes one of the busier players in town. Held down a prestigious solo gig at the Ambassador Park Hotel for 2 years where Texas Monthly magazine called him " a polished player, a consummate player in the mode of Joe Pass". Studied at North Texas State and Brookhaven School for the Fine Arts.
1985: Tom longs for the cool atmosphere of the Northwest and decides to move back to Seattle.
1986: Kicked around for a few years backing people up who come through town. Sometime Tom was working with up to six bands at a time, once again becoming a very sought after sideman.
1988: Tiring of the club scene and trying to impress the woman that Tom wants to marry he decides to go back to school.
1988 – 1990: Tom attends Renton Technical College majoring in Computer Science. Designs his own class structure with a focus in Networking Architecture. Eventually graduates early with a job waiting for him. Tom pulls himself off of the local scene totally and concentrates on his career. He eventually goes back to school and completes training in Data Communications.
1990 – 1994: works with songwriter and pianist Michael Hepburn (Pleasure) and learns how to sequence music and at Michael's urging takes the plunge into the world of songwriting and producing. Tom begins to buy gear and set up his studio while working on a compositional approach to express himself. If this was not enough, Tom was working for Bonneville Power Association building Wide Area and Local Area Networks.
1994 – 1998: Tom gets very serious about "day time" work and concentrates on his computer career. Tom suffers some health set backs and after 6 months of recuperation decides to get back into music. Once again Tom eventually becoming a sought after side man in local bands. Growing tired of this Tom once again goes to work on his own material.
1998: While working at a prestigious local law firm Tom begins to tire of the stress of the computer business. He leaves his position at the firm, takes a 3-month sabbatical and finishes the writing and production of his project.
1999: Spends the first part of '99 working at another law firm all the while mixing his project at night. Tom finished the project in July of 1999. Once finished he starts his own music publishing company and is doing the legal ground work to start his own company that will market, sell and license the tunes that Tom has written. The tunes cover the whole of the western musical expressions. From subtle bossa novas to hard core funk and rap beats to new age guitar tunings and even country western.
Tom has played and studied with some of the best performers in the business. These people are listed below:
Jazz
Tenor Saxes: James Clay, Marshall Ivory.
Organists: Jimmy Smith and Joey DeFransesco.
Pianists: Red Garland and Jessica Williams.
Bassists: Buddy Catlett (Count Basie and Quincy Jones) Jeff Johnson (Hal Galper, Jessica Williams).
R&B
Singers: Freda Payne, LaVerne Baker and Etta James.
Gospel
Pianist: Ben Tankard.
Singers: Yolanda Adams and Anson Dawkins.
Gospel Jazz Guitarist: Walter Finch.
Smooth Jazz:
Pianists: Robert Damper (Kenny G) and Deems Tsutakawa.
Percussionist: Tony Gable (206 and Kenny G).
Saxophonists: Darren Motamedy and Dennis Springer (Pleasure).
Drummer: Bruce Carter (Kenny G, Pleasure) Kenny McDougal (Kenny G).