Friğrik Karlsson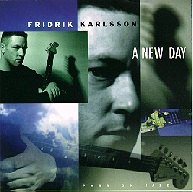 Friğrik Karlsson studied classical guitar and was the first student to graduate in music from the FB college in Reykjavík. He has played on many albums but is also well known for his songwriting.
Apart from his writing for Mezzoforte he has written several pop hits such as NIGHTTIME the Icelandic contribution to the Eurovision song contest 1993. Other bands that he has recorded with are N1+, STJÓRNIN (along with Jóhann Asmundsson), MODEL (along with Gulli Briem), the english group SHAKATAK (with whom he has played live several times) GIGABYTE (a duo with Sigga from Heart 2 Heart) and many more.
In 1990 Frissi made a solo album Point Blanc featuring all members of Mezzoforte along with Danny Gottlieb, Mark Egan and Manolo Badrena. Recently he has been playing guitar on the soundtrack of the movie EVITA, played with Madonna on BBC s Top Of The Pops and also some TV work with Jose Carreras.

Frissi now lives in London working as a session musician. He play guitar in the Andrew Lloyd-Webbers musical Jesus Christ Superstar that is running in London West End.


---
Friğrik Karlsson
A New Day
Writing a review is always a great pleasure, if you listen to an album with professional and hooking music. When only a few talk about and review this album, it is virtually a necessity. As a member of the group Mezzoforte Friğrik Karlsson has reached undoubtly star-hood and a certain grade of knowledge. Those who hold his album in their hands, know why. This album is divine.

Since several years a close cooperation exists between the members of Shakatak and Mezzoforte. For example in 1985 the album No Limits was produced by Nigel Wright who also wrote lyrics to a couple of songs. He also played with the group Shakatak on several events. The influence of Shakatak's music is to be listened perceptibly to his album. But Friğrik has his own unique style.

Overture starts with gentle acoustic guitar sounds layered with an atmospheric keyboard sound carpet.

Perfect way shows the Smooth Jazz direction of this wonderful album with an uptempo beat and perfect acoustic guitar strains. The melody is catching and radiolike. If you like Peter White or Marc Antoine' music you will adore Friğrik's new album. This is the dream stuff. The tune is currently played on Jazz FM.

N'Iceland a reminescence to Friğrik' s native country is an uptempo and modern runner too.

Don't Let Go features Cathi Ogden (voice of Nite Flyte's "Company". Cathi's mellow vocals and Friğrik's guitar are blending to a tune with a high sentimental personal value. This song is flattering your ears.

On this album is no drop out, every tune is a winner. So Sunrise, a wonderful acoustic guitar piece with a stimulating romantic melody.

Blow it out brings a new more funky uptempo element into Friğrik's album. Pete Adams on keyboards gives this tune a funky attitude. Friğrik's guitar solo dominates this tune. Personally I would prefer an interplay with the bass guitar, which stays in the background.

Express it is the next uptempo grooving and dancable tune in a Shak style. Remarkable Friğrik's lightness with witch he masters his guitars. The expression of a great experienced artist.

Dream Away is a Bossa Nova in the well-known Shak style. On this background one can listen to Friğrik's beautiful acoustic guitar solo. One must be no guitar connaisseur to realize his blessed mastership.

New day is an uptempo guitar tune with wah-wah effects and an impressing guitar solo too, added with some scatting sing-sung.

Give It Up presents anew Cathi Ogden's smooth vocals. Friğrik plays in a nice George Benson manner on probably a Gibson L5 guitar.

Peaceful Afternoon is a romantic guitar piece with some pizzicato effects that slowly up-flows your veins before it reaches and hugs your heart and lets go no longer.

Thinking About You is more uptempo tune again with a blend of distortion and acoustic guitars.

African Dreams is Friğrik's excursion to world music with a sitar guitar and African drums. The vocals are added by TJ. Whoever this is.

On Sonhan Do one can hear Steve Lima's dulcet and languishing voice. The melody is returned and interpreted by Friğrik's acoustic guitar in his well-known skillful manner.

Friends of acoustic guitar music cannot resist this album with an audible ear-arresting potential.

© HBH