Luicio Hopper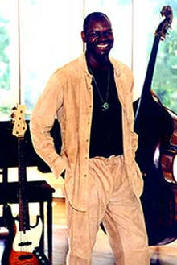 Born and raised in Bassett, Virginia, Luico Hopper was introduced to music at an early age. He would often listen to his father play the acoustic guitar and sing around their farmhouse.

Luico's first instrument was the clarinet that he played throughout high school. He received his first guitar as a gift from an older brother on his twelfth birthday. Soon, he was immersed in the instrument. Shortly thereafter, he began giving solo performances and started making extra money playing for social events.

After high school, Luico entered Norfolk State University and majored in Sociology. During his freshman year, he started playing the electric and acoustic bass. After a short time, Luico joined the College Jazz Ensemble and remained part of this group until graduation.

Upon receiving his degree in Sociology, he decided to follow his long-time dream of pursuing a career in the music field. Performing in Virginia and North Carolina for a year, Luico decided to move to New York City on the advise of renowned drummer, Danny Richmond. This would become a major turning point in his life.

Over more than two decades, Luico has followed a bountiful musical journey that has taken him around the world in extraordinary experiences with legendary musicians and performers. The odyssey continues to unfold...