Gary Bias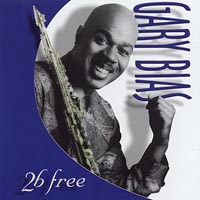 Grammy award winning sax guru Gary Bias serenades oh so sweetly on his debut CD, 2 b free, on his own Thunderbop Records.

His seemless blend of smooth jazz shimmers with melodies that glide over us, magicaly transporting us over serene horizons.

After years of lending his soothing serenades to artists like Stevie Wonder, Quincy Jones and Whitney Houston, this veteran sax man is stepping to the forefront, with a solo sound that simply stated, sends shivers down the spine.

A native of South Central Los Angeles, Bias began playing the saxophone at the age of eleven.

Early on, his musical peers included Gerald Albright, (they met in the seventh grade), along with Patrice Rushen, Ndugu Chancler and trumpeter Ray Brown, all high school pals.

while pursuing his music degree at California state University, Los Angeles, Bias was hired to tour with the Quincy Jones Orchestra.

After college he joined the famous Latin jazz artist, Willie Bobo, and then went on tour with the Duke Ellington Orchestra. He was only 23 at the time.

A highlight in Bias' career occurred when he co-authored the song "Sweet Love" with Anita Baker in 1985. The tune garnered him a Grammy Award for R&B song of the year.

By 1987, there was no stopping him as he joined the legendary Earth, Wind and Fire band! Bias has since toured with James Ingram, Randy Crawford and Whitney Houston, to name a few, and is currently back on the road with EWF.

With 2 b free, Bias showcases the skills that have made him one of the industry's most sought after wind players.

The CD's opening track, "The Rump" is warm and inviting. As Bias chants hypnotically over a seductive sax groove, "When a jazzman plays his horn, All his troubles go away," we feel oursmelt away as well.

2 b free, the title track, picks up the pace with a brezzyflow while his cover of D'Angelo's "Lady" rings with quiet familiarity.

On "Damage", Bias croons again, as his voice and instrument combined make for real musical therapy. Gary's "Quiet Passion" is just that, while his "Precious Love" is a titillating jazz ballad.

2 b free is a wonderful escape to a place where there is no stress. The serenade is soulful, sweet and sincere.

When this jazzman plays his horn, it is our troubles that go away. Gary Bias' wish is for us all "2 b free." His music show us the way.
More info:
http://www.cdbaby.com/cd/garybias