Armik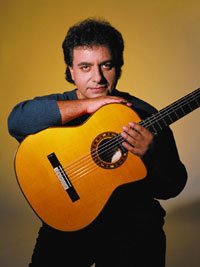 Armik strums the heartstrings like some mythic master of romance. His guitar serves as a soulful, emotive voice, demonstrating a technique that is both wild and refined. His music is passionate, sensual, exotic and definitely romantic. Flamenco virtuoso Armik is a passport to an intoxicating musical world. His compositions are sultry Caribbean and Latin rhythms meshed with provocative Old World melodies.
Fusing traditional Spanish melodies with jazzy improvisation and progressive rhythms. Armik has concocted a passionate new sound recognized by so many as his own unique style described as "Latin-gypsy-jazz".
His five successful albums on Baja/TSR Records, "Rain Dancer", "Gypsy Flame", "Rubia", "Malaga", and "Isla del Sol" have clearly set new standards for "New- Flamenco" music. All five albums have been on the Billboard charts in the New Age and World music categories as best selling albums.
Building on his legacy of excellence & invention Armik has produced and arranged all of his albums. "Every song is played in one take " the guitarist says proudly". A lot of times musicians will punch-in and overdub the parts, but I am totally against that. You lose the emotion and feeling when you work that way , and emotion is very important to me and my music".
Born in Iran of Armenian descent, Armik is a true citizen of the world. At the age of seven he became so enamored with classical guitar that he pawned his watch for one. He hid the instrument in the basement of his house, when he practiced unbeknownst to his family.
By the time his mother made the discovery, Armik was exhibiting a prodigious talent for music and the family began paying for his lessons. Determined to complete his formal training in record time, the guitarist completed the "Rudolf Solphege" instructional regimen in two years. At the age of 12 he was a professional recording musician. He started as a Jazz professional and continued in that format for approximately 10 years.
Armik traveled frequently to Spain to play and study with various classical and flamenco musicians. Armik became an ardent student of Spanish folk music. "When I first touched a flamenco guitar and heard the sound, I realized I could talk through my instrument."
Armik moved to Los Angeles in 1981, where he currently resides. It was while performing with other artists that fans began to ask him when he was finally going to record his own album. He fulfilled those requests with the 1994 release of "Rain Dancer" which caught the music world unawares with its ripened, romantic sound. The album rocketed to the Top 10 Billboard's New Age Albums chart, and received airplay in such major markets as San Francisco, Chicago, Los Angeles, Orlando and San Diego.
In 1995 Armik created Gypsy Flame, a logical progression from his1994 debut recording, Rain Dancer. Public response was effusive. Gypsy Flame reached GOLD status in Australia within a few months of it's release. The 12 original compositions range from fiery salsas to jazz-inflected rumbas and luxuriant Spanish ballads. The guitarist takes his unique artistry to lofty new levels on Gypsy Flame. The rhythms featured here come from the Caribbean, the Mediterranean and South America, while the melodies echo the romantic ballads of Spain. Armik provides the finishing touch himself, performing his solos with jazzy improvisational fervor.
In 1996 his third album Rubia was released. The guitarist punctuates his well-tempered harmonic lines with fiery bursts of improvisation. This album finds Armik creating beautiful musical storms, and negotiating each squall and swell like a true virtuoso. With its sumptuous jazz, Latin and European overtones Rubia possesses the continental feel of a world classic. In fact, the album is titled after an instrument created expressly for Armik by the revered Spanish luthier Pedro Maldonado. Armik was so inspired by Maldonado's handiwork that he composed two tracks in honor of the instrument and its maker, Rubia and Maldonado.
Malaga is Armik's fourth album released in 1997. Like its creator, Malaga is ambitious, romantic and fervently experimental. Armik has since been credited with introducing Spanish folk music to a new generation of fans. Malaga is sure to win over converts. With its burnished melodies and flawless arrangements, the album is a symbol of excellence in a world overrun by musical mediocrity. His musicianship is evident from every track which pulls the heartstrings with echoes of flamenco, Brazilian Samba & Mediterranean influences. Every track highlights Armik's lightning fast fingers on his custom made flamenco guitars. Malaga is music with passion.
Isla del Sol literally "Island of the sun" is Armik's fifth and latest album released in May of 1999. This vibrant recording combines fiery flamenco guitar & tropical Caribbean rhythms with beautiful and passionate melodies. It is hot, exciting, romantic and very exotic. Unlike anything else you've ever heard before. Although the song writing and preparation for Isla del Sol took months, Armik recorded each song in just one take. Prior to any recording, Armik spends numerous hours selecting the best sound format which is the result of the brilliant and clear sound that is heard on all of his albums. The artist says proudly "this is an album that is a combination of my lifetime education and experiences in recording and song writing".
Isla del Sol will take you to far away places that can only be imagined in your dreams. "This album is a reflection of my life. Music is my life" the guitarist proudly says. As you love his other four albums, you will fall in love with Isla del Sol even more.
The guitarist takes his rightful place as one of the world's finest and best selling master flamenco guitarists. His five successful albums show case the worldly sound of Armik. He has a special and unique style and touch that is distinguished from all others.
****To hear Armik's music is to love it. It is an addiction, an inspiration, a necessity.****