Scott Wilkie

I grew up in suburban Detroit, Michigan, and formed an electric-jazz group there called Separate Checks. We played around the Detroit jazz circuit from 1985-91.

In 1991, I moved to southern California, and since then I've been busy playing throughout the United States, Japan, Europe, South America and the Caribbean.

In June 1998, I signed with Narada Records, part of Virgin Records America. My debut CD, titled Boundless, was released worldwide in February 1999.


I also perform as an artist for my friends at Roland Corporation. I've traveled all over the world playing their cool instruments, and making lots of new friends along the way. You may have heard my demos in some of their keyboards and synthesizers, like the A-90EX, RD-600, JV-1010 and KR, FP and HP-series digital pianos.

More info:

http://members.tripod.com/~jazzed1/review.html
http://staff.twave.net/jazzzman/reviews.htm
---
More than you know
On his new album "More than you know" Scott Wilkie has assembled a big bunch of high-carat musicians.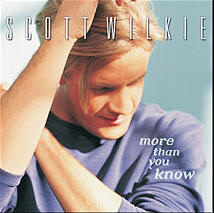 The album is his 2nd release on NaradaJazz Records and it features his band along with some special guests, including Lenny Castro, Paul Jackson Jr, Eric Marienthal and Alec Milstein. Scott remarks about this album: "It's kind of a "back to my roots" CD for me, with lots of acoustic piano and a very live feel."
The starting piece Sign of the Times is an uptempo tune with a fresh sound. Scott plays the piano in changing rhythms and masterly. The rhythmical accents are perfectly set by Paul Jackson on guitar, Alec Milestein on bass and by Lenny Castro's percussion. All tracks are well arranged and mixed. No one else than the Grammy-nominated engineer Danny Leake has made the mixing part.
The Chicken is a funky played in piece. Typical Scott Wilkie on hammond B3 organ and the plucked bass played by Alec Milstein. Over this sound Scott has layed quickly piano runnings.
NB2000 showcases Scott 's pointed electric piano and piano play. In accompany by Paul Jackson on guitar, Nathan Brown on fretless bass and Lenny Castro, percussion, Scott reaches an intensive atmosphere and playing deep.
Pier 39 is a slow and contemplative tune, build up by acoustic instruments giving the piece a natural flavour. Anew Lenny Castro's sensible playing on percussion is a real enrichement. Outstanding Matthew von Doran's guitar and Scott's piano play.
In Comes the Ausgang is a tune with uptempo and slowtempo parts. Alec Milstein brilliants on plucked and funky bass.
The Gnu Won is a midtempo but still rhythmical tune. Eric Marienthal has the opportunity to manifest his great talent on saxophone.
Fruit sandwich is a furios very percussion oriented Latin Jazz track. Lenny Castro has enough space to show his wide percussion spectrum. I love the conga and drum parts. Brilliant Scott on piano and Matthew von Doran on guitar.
Black From the Beach is a synthisizer tune (Roland's Lead-Synth and epiano sounds) reminding a little bit of Emerson, Lake and Palmer events. I personally prefer the pianissimo parts of this piece. The piece obviously profits by the contrast between the loud synthi and the muted parts.
Summer vacation is an uptempo track with a special Doran electric guitar and a furious Wilkie piano solo with an organ background.
Whale Song begins with a romantic piano introduction guiding to Eric Marienthal's thoughtful saxophone solo.
Well, after listening to the album I agree with Scott's statement. If you like the piano as a dominating instrument, More than you know is undoubtly a worthy addition to your Smooth Jazz collection. But Scott should disclose the meaning of the album title.
© HBH