Dave McMurray

Dave McMurray, the Detroit-based saxophonist and a member of "Was, Not Was" presents his debut album at Hip-Bop-Records (www.silvascreen.com) Peace Of Mind. Featuring guest appearances by Bob James, Mark Whitfield, Don Was and others, and includes a track specially produced for this album by Don Was & David Was. Track highlights include: "Down And Easy," "Chow Main Street," "Home," "1988," "In This Life," "Peace Of Mind," and more!

Detroit saxophonist McMurray, who might be remembered in the '80s as one of the finest avant expressionists in his heyday with Griot Galaxy, follows the same Smooth Jazz path as on his previous Warner Brothers release "The David McMurray Show." His 1996er release was Keep on Rising. Dave McMurray is also wellknown as a sideman at several projects like Bob Dylan's Under the red sky (1990), the Rolling Stones' Voodoo Lounge (1994), Bob James' Joy Ride. The complete list is to find at AMG (adress below).


More info:

http://allmusic.com/cg/x.dll?UID=4:32:31|PM&p=amg&sql=A427225

http://earthscape-press.com/daveshow/index.html

Dave McMurray - Peace Of Mind
Dave McMurray, the Detroit-based saxophonist and a member of "Was, Not Was" presents his debut album at H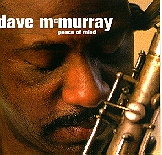 ip-Bop-Records (www.silvascreen.com) Peace Of Mind.
May be you await hearing this title a calm and new agy album? Peace of mind means freedom from disturbance or perturbation, a tranquillity and undisturbed state. You would be misled fare. This album is mainly a funky but still smooth album.
The grooving drum machine, added with some latin percussion sounds and the hovering keyboard sounds are the ground of the first track Down and Easy on which Dave McMurray builds up his claim of leading sax-mastership in Smooth Jazz. In the tradition of Grover Washington McMurray opens a new era of funky saxophone.
Darrell "Peanut" Smith on his propulsing bass is the funky partner on My Brother & Me. Remarkable Bob James solo on Rhodes, but unforgetable McMurray 's emotional and sizzling saxplay.
For you showcases Donald Ray Mitchels on vocals. This is obviously a jazzy Hip Hop with a hard drum programming, but devilish well-played in. Keyboard sound accents thundering at the horizon.
Strange indian rhythms and sound samples give Chow main street a strange appeal.
How come U don't call me anymore is a cover version of Prince's former album Prince & the Revolution: Live (1985). A slow and melodic tune.
Home is also a hip-hoppy easy played tune. The sound of this upcoming decade is definetely drum-programming. JK plays a marvellous guitar solo.
Bob James on piano is always an unbeatable enjoyment. Together with McMurray's sax it's an overwhelming pleasure. Gar Z is such a magnificent example. Also skillfull and perfect are Wayne Gerard's and Mark Whitfield's guitars.
D'Angelo's wellknown song Brown Sugar is the next sensible played cover version. Dave McMurray seems to be profoundly rooted in R&B and Hip Hop, but his mesmering ability to improvise in every tune reveals his still jazzy attitude.
Mo' Funk in 1988. Darrell Peanut's bass is anew the right pavement for JK's and Dave's funky solos.
Let's go smooth again, may be the idea for the next track Let it go. Herschell Boone's intimate vocals doubled and tribled in a choral arrangement in combination with soft keyboard sounds are the opener for the smooth part of the album.
Michele is played in the same mellow mood. Gentle melodies caress your ears.
In this life is the more funky follow up, still in a slow tempo. The bass is played by? Darrell Smith of course.
The title song Peace of mind is more contemplative and measured. Well arranged and perfectly blended you can hear a high-quality studio recording. Sound and drum programmings are playing a main part and produce the atmospheric background to raise the instrumental play on a higher level. Jazziz wrote about this album: "Anyone familiar with the sound of instruments playing together in a real acoustic space will find McMurray's radio-oriented, multi-tracked production compressed and airless." I cannot share this opinion. This complex sound can only produced with a carefully prepared arrangement. Sure this sound isn't spontaneous. But then you better should listen to a live album.
Finishing track is a so called smooth mix of For you. You can hear a more uptempo version.
This album has already overstep the border between Smooth Jazz and R&B. Yes, this album is very radio-like in the best sense. Thanks to the perfect arrangements and well-played music this album is an outstanding peak in Smooth Jazz history.
© HBH